Robin Strasser (Dorian Lord) has signed a new contract with One Life to Live -- and she's not happy about it.
It's not that the fan favorite performer doesn't want to be a part of the show, but the star's salary has shrunk considerably over the years due to the budget crunch faced by daytime drama series.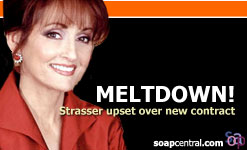 "I just had a meltdown," Strasser confessed on her fan hotline. "I was so upset because I thought that my new ABC contract would be signable, and then I open it and read it and it's not what I was told I could have."
Soap Fact: Strasser was the original Rachel Davis on Another World.
As most fans of daytime television know by now, the shrinking ratings for daytime television have forced networks to slash production budgets and salaries across the board. Typically veteran performers bear the brunt of the salary slashing since they typically make substantially more than a newcomer.
But just how much of a cut are stars being forced to take?
"I can live with the enormous paycut I took in order to return to the show [in 2003]," Strasser continued. "I cannot seem to get any significant improvement, so I'm making half of what I did in 1999. But still, it's a living and it's work I love."
Strasser joined the cast of One Life to Live in 1979 and remained with the show through 1987. She took a six-year break from the show before returning in 1993. She once again left the show in February 2000 amid reported differences with Jill Farren Phelps, then the show's executive producer. Shortly after Strasser left, fans flooded ABC with mail asking them to bring the actress back to the show. Three years later, fans got their wish and the wildly popular actress was back in Llanview.