The clock is ticking down to decision day for long-time One Life to Live veteran Robin Strasser (Dorian Lord). The Emmy-winning actress reports that her contract talks with show executives are now in their final days -- and her future with the ABC soap could be decided at any time.
In a stunning and surprising message on her fan hotline, Strasser expressed her disappointment over contract negotiations with ABC -- which she asserts were not negotiations -- and being blacklisted for three years over a previous contract flap.
"Just in case my paranoia is correct and somebody might leak something [...] before I tell you on the hotline, which is what I promised, I was assured, 'Please wait 24 hours,' [before making any announcement]," Strasser said cryptically.
With her recent outspokenness about her contract talks, it should come as no surprise that Strasser's announcement has something to do with her future on One Life to Live.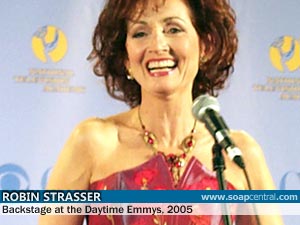 "Of course it has to do with offers from ABC to continue playing Dorian. It's not a negotiation. The first figure they gave me was exactly the same six weeks later after I spent a fortune having a lawyer talk for me," Strasser explained somewhat curtly. "I had a great contract all the way through when Jill Farren Phelps was the executive producer and the negotiations went toxic... and I was sent away."
Strasser notes that the attorneys who represented ABC during her previous contract negotiations are no longer with the network. Refusing to be "wishy-washy" on the subject, Strasser dropped a bombshell by claiming that she had been "blacklisted for three years" after her much-publicized exit from One Life to Live in 2000.
"I heard from one West Coast producer and one East Coast producer that they wanted to cast me but they were told, 'No,' not while Angela Shapiro was the head of [ABC] Daytime."
On her fan hotline last week, Strasser revealed that barring some sort of "compassion extension" to the negotiation process, the network's latest contract offer is a "take it or leave it" offer.
Now, it appears that Strasser's best hope for a new contract with ABC is an unnamed "knight in shining armor" who has taken up her cause.
By now, it's well-known that even daytime's biggest stars are being asked to take salary cuts. The Young and the Restless' Melody Thomas Scott (Nikki Newman) recently reached an argeement on a new contract with the top-rated CBS after initially rejecting a paycut, but not before the show wrote her character off the canvas. This spring, even All My Children's Susan Lucci (Erica Kane) confirmed that she'd agreed to work at a reduced rate, possibly as much as 40% less.
But not every veteran performer is given the chance to accept or reject a smaller salary. In January, Days of our Lives sent shockwaves throughout the industry by cutting two of its biggest stars, Deidre Hall (Marlena Evans) and Drake Hogestyn (John Black), from the cast. The implications were clear: no star was too big to be let go.
"I took a huge pay cut six years ago, so I donít think anyone should whine," Strasser told TVGuide Canada in an interview earlier this year. "I took a healthy pay cut, and I was happy to be taking one for the team. Listen, I get it -ó times have changed. Itís survival time. Letís not have a pity party. I would hate to see the cameramen, the teamsters, and our security guards out of work because the headliners didnít want to do the right thing. We all need to display some judgment and think about the big picture."
Strasser, who joined One Life to Live in 1979, has left the show twice before. In 1987, Strasser left to pursue other ventures, but she returned to Llanview six years later. In 2000, Strasser left One Life to Live amid a much-publicized dust-up with then-executive producer Jill Farren Phelps. Strasser then took on the recurring role of Hecuba, a 300-year-old witch, on NBC's Passions. In April 2003, Strasser announced that she was "delighted" to be returning to One Life to Live.
ABC does not comment on contracts.