Patricia Mauceri (Carlotta Vega), a 14-year veteran of One Life to Live, was abruptly dumped last week after she expressed concerns over the show's upcoming gay storyline and her alter ego's participation in it. The show responded by recasting the role.
It been more than two months since One Life to Live abruptly made a decision to bring actress Saundra Santiago on board to play the role of Carlotta Vega. The role had been previously played for more than 14 years by Patricia Mauceri. The recast prompted strong reaction from fans and now there's talk that a lawsuit may be filed.
The conflict began when Mauceri voiced her concern over how the writers had penned her character in a storyline. Briefly, the plot involved Mauceri's character observing her son with a book on "coming out." What Carlotta didn't know was that the book didn't belong to her son. The storyline was devised to be comedic, and Carlotta ultimately tried to assure her son that she was okay with what she perceived to be his sexual orientation.
Though the 59-year-old actress is a devout Christian, Mauceri insists that she didn't have issues with being written into a gay storyline. In fact, the actress appeared in the 1997 gay comedy flick, I Think I Do. The issue, Mauceri insists, was that she didn't approve of the gay-friendly dialogue because she felt it was not in line with how the fictional Carlotta would really react.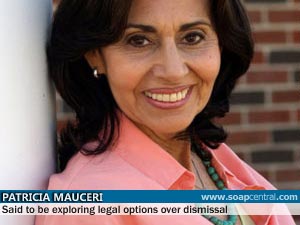 "I did not object to being in a gay storyline. I objected to speaking the truth of what that person, how that person would live and breathe and act in that storyline," Mauceri said in an interview with FOX News. "And this goes against everything I am, my belief system, and what I know the character's belief system is aligned to."
Mauceri reportedly offered to assist the show's writers by writing dialogue that she felt would more accurately reflect how Carlotta would react to the situation.
A show source reminds Soap Central that Mauceri was not a contract player with One Life to Live. As a result, the network was under no obligation to utilize Mauceri. Likewise, Mauceri did not have to avail herself to ABC's schedule. To put it another way: Mauceri wasn't fired because she was only on recurring status.
"An actor is hired to play a role, not write it, and while Mauceri was certainly within her constitutional rights to refuse to play the part, the network was equally within their rights to find someone who would," AfterElton.com's Michael Jensen wrote of the situation in his blog.
Mauceri told FOX news that she is exploring legal options as a result of her ouster from One Life to Live. Requests for comments from AFTRA, the union that represents Mauceri, did not respond to requests for comment.
"We are not aware of any such claims that Ms. Mauceri has made and any such claims would be frivolous," a network spokesperson tells Soap Central. Adding on Mauceri's replacement, "We do not comment on personnel matters."



Y&R actor reportedly walks out over gay storyline. [May 25, 2009]