The Port Charles set is abuzz with talk that David Gail (Joe Scanlon) will soon be departing.
Gail joined Port Charles in July 1999 after the role's originator, Michael Dietz, was let go.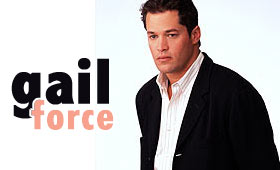 The rumors first started making their rounds about a month ago when the show put out a casting call from "a sexy male in his 20s to play a rebel with a heart of gold." Insiders immediately assumed that actors were being sought to replace Gail. A spokesperson for Port Charles, however, offered no comment on the reports.
The reports go on to say that Gail has been having "personal problems" and that the actors wants to pursue ventures outside of daytime television.
If you believe the reports that Gail is leaving, you might also tend to deem credible the reports that Michael Dietz is returning to reprise the role he originated back one Day One of Port Charles in 1997.
Dietz, however, says that he had not been contacted by anyone from ABC or Port Charles.