Kimberlin Brown's (Rachel) year-and-half on Port Charles came to an end on November 29th, the result of the climax of a sometimes-undefined storyline. The veteran soap actress admits a bit of disappointment over the run with the show.
Rachel wasn't what Brown had "expected," the actress revealed. According to published reports, Brown has gone on record as saying that the role wasn't "very challenging" until nearly the end of her run.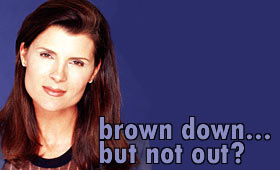 The rumors that Brown's stint on Port Charles was going to end during last month's Sweeps period had been taken as fact for quite some time. After all, the reports that the actress was a goner first hit the Internet in early Fall.
In fact, Brown knew that her character was being written out of the show well in advance. The actress failed to confirm reports that she had requested to be let out of the show. Brown had reportedly only signed a one-year contract with Port Charles when she signed on in July 1999. By applying that standard, Brown worked on the show for about five months without a contract. Nevertheless, Brown honored executive producer Julie Hanan Carruthers' request that she not go public with the news that she was leaving the show.
"I kept quiet," said Brown. "I always hold true to my word."
The reports that Brown has been in negotiations to rejoin The Bold and the Beautiful now appear unfounded. The actress claims that the reports are "purely rumor" and that she has not been in talks with anyone from the CBS soap.
As for her future with Port Charles, anything is possible. The door has definitely been left open for a return at some point down the line. It is unclear, though, if the new writing team would revisit this storyline. Part of the reason the show is now using 12-week story arcs is to capture newer viewers and explore new storylines. Going back and readdressing Brown's character may not be in the cards.
---