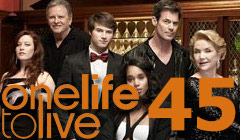 Celebrating 45 years of One Life to Live
Posted Tuesday, July 09, 2013 12:58:00 AM
SHOW AIRS: July 12, 2013, at 6pm ET/3pm PT. http://soapcentral.com/scl
On July 15, 1968, One Life to Live broadcast its first episode on network television. Now 45 years to the day, the beloved series is returning to television with the airing of its "first" episode on OWN, the Oprah Winfrey Network. And of course, new episodes of OLTL continue to be broadcast online via Prospect Park's TOLN on Hulu, Hulu Plus, and iTunes.
We'll be celebrating 45 years of Llanview with special guest Jerry ver Dorn (Clint Buchanan) and asking you, the fans, to share your favorite One Life to Live memories. And since it's a celebration, you never know who else might show up!
SCL listener information
Soap Central Live airs Fridays at 6PM Eastern/3PM Pacific on the
Voice America Talk Radio Network
.
Listener Call-In Line:
866.472.5788
Tweet Your Comments/Questions
@soapcentrallive
:
twitter.com/soapcentrallive
For more information about Soap Central Live or to listen to other episodes:
http://soapcentral.com/radio/index.php
Share this story with friends, family or the world.

PRINTABLE VERSION
View a printer friendly version of this article