A study being conducted in part on Soap Opera Central where soap opera viewers' reactions to Bianca's storyline on All My Children has come to end.
The study, being conducted by the Gay and Lesbian Alliance Against Defamation (GLAAD), posed questions to soap viewers to gauge their reaction on a number of issues involving the character played by Emmy-nominated Eden Riegel. Some of the questions asked viewers to speculation on the longevity of a lesbian character in daytime television as well as asking whether or not they felt the current storyline involving the gay teen is realistic.
Van Cagle, Director of Research for GLAAD, extended his thanks to the visitors of Soap Opera Central for their assistance in this project.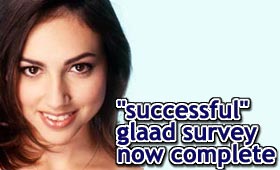 "The GLAAD Center for the Study of Media and Society would like to thank Dan Kroll and Soap Opera Central" for allowing visitors to partake in this survey, said Cagle. "His service has provided GLAAD with invaluable data that will result in a more accurate representation of how fans view the Bianca storyline. To all those who participated, GLAAD would also like to issue a special thanks. We appreciate your input and look forward to analyzing your answers to our questions. "
Soap Opera Central also provided results of polls conducted since October 2000 that pertained to the Bianca storyline. Cagle explained that Soap Opera Central provided a unique forum to acquire a "massive amount of data" from an audience that might otherwise have been unattainable for such a study.
Lee Harrington, who has been commissioned by GLADD for the study, will continue analyzing the information submitted by Soap Central users. Harrington will also continue to follow the Bianca storyline for several more months.
Soap Opera Central will also cooperate with GLAAD on an article in an upcoming edition of its magazine, "Images."
Soap Opera Central would also like to thank everyone who has participated in this study. We appreciate your interest and thank you for once again showing that Soap Opera Central's users are some of the best on the 'net.