For a limited time, the very first episode of Days of our Lives will be available for viewing through SoapCity. Now viewers who long for (pardon the pun) the "old days" and newer viewers who may not have been born when DAYS first hit the airwaves, can see how it all began.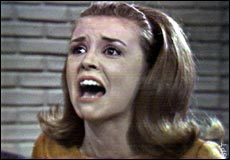 The classic DAYS episode has not been seen since its original airing on November 8th, 1965. This also marks the first time that a soap's first episode has been available for viewing on a personal computer. From February 18th through March 16th, the special first episode of DAYS can be purchased, downloaded and viewed for $1.99.
This classic episode, like all of SoapCity's episodes, is available without commercial interruption and features full VCR functionality, with the ability to stop, start, rewind and pause each episode. SoapCity offers same day episodes of
As the World Turns,
Days of our Lives and
The Young and the Restless.
From time to time, SoapCity also offers other "classic episodes." Last year, several Christmas-theme episodes were available for users to download.
In addition, SoapCity is now offering episodes of the primetime serial, Dawson's Creek. Four memorable episodes will be available for download beginning February 26th. The episodes can be purchased individually for $1.99 or in a special bundle for $6.99.
Learn more about viewing your soaps on your PC.