The word has long been out that one of NBC's three daytime dramas will not make it to the next millennium. With Days Of Our Lives having inked a new contract, that leaves Another World and Sunset Beach to face the axe.
NBC will introduce a new soap opera, Passions, in July. To make room for the new soap, either Sunset Beach or Another World will have to leave the airwaves. While the peacock network could have four soaps on the air, NBC apparently fears soap overload and will opt to show only three soaps.
So which soap is headed out?
Another World will mark its 35th anniversary later this year. A special commemorative book is already in the works as is a special anniversary episode. Sunset Beach, on the other hand, has only been around for two years. If the network goes for nostalgia, Sunset Beach will have to go.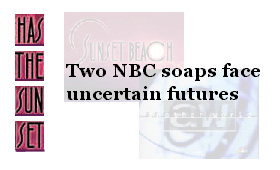 Sunset Beach, however, is backed by television guru Aaron Spelling. While Spelling has had huge success if primetime, Sunset Beach, Spelling's first daytime venture, has fallen flat in the ratings department. Sunset Beach launched with great ratings, but once the newness wore off, the show's ratings quickly declined. Sunset Beach is currently ranked eleventh out of eleven soaps -- and rarely earns about a 2.0 in the Nielsen ratings. Each rating point is equivalent to about a million viewers. But all's not rosy in the ratings department for Another World. Another WorldW ranks ninth in the ratings, but it has recently been ranked as low as tenth. A higher rating means more viewers -- and more advertising revenue. There's a catch to that as well. Sunset Beach ranks higher among the younger viewing audience, the audience that advertisers want to attract. So while its ratings are lower, Sunset Beach might manage to hang on simply because its viewers are younger.
So in these two scenarios, the verdict is split. There is a third scenario -- and neither Another World nor Sunset Beach fans will want to hear it. An NBC insider has stated that the network might cancel both shows.
The March 22nd edition of Advertising Age stated that NBC is "seriously discussing" getting rid of both Sunset Beach and Another World. By dropping both soaps, the network would have one extra hour of programming time to fill. This could then be passed on to its affiliates to air more profitable programming like talk shows. Publicly, NBC has stated that they plan to have three soaps on the air this fall, but the network also said that the rumors of a double-cancellation are "not necessarily untrue."



---
Share this story with friends, family or the world.

PRINTABLE VERSION
View a printer friendly version of this article
---