It's been several weeks since Soap Central first reported on the rumors that Victoria Rowell (Drucilla Winters) might be returning to The Young and the Restless. Since that time, fans have been buzzing about the possibilities. Now, that buzz has been silenced by an audible gasp as Rowell alleges that some of her former co-stars are trying to prevent her return.
Rewinding a bit, in mid-August, Rowell announced that she'd definitely consider returning to The Young and the Restless now that her good friend, Maria Arena Bell, is perched as head writer of the top-rated show. When Rowell turned up on the Red Carpet at the Daytime Emmys this year, the timing seemed perfect.
When asked by Soap Central's Dan J Kroll if her presence on the Red Carpet might have some sort of significance, Rowell curtly replied, "Honey, I was on daytime for 18 years." After noting that she wasn't currently on daytime and that networks have a tendency to use the Daytime Emmys as a forum to make big announcements, Rowell politely backtracked. "No, there won't be an announcement tonight. I'm here to support [Outstanding Lead Actress nominee and friend] Debbi [Morgan]." As for whether or not any announcement would be made in the near future, Rowell smiled coyly and added, " I can't say, but I am ready to give the fans what they want."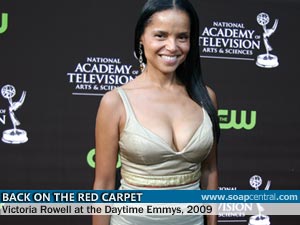 The first blow to a possible Rowell return happened just a short time after the Emmy telecast. Soap Opera Digest recently reported that Y&R had "no room on the canvas" for Drucilla Winters. Shortly after that, Rowell apparently learned that Drucilla's on-screen love interest, Kristoff St. John (Neil Winters), was not expected to have airtime for the next three months -- despite the fact that his alter ego's daughter is battling a life-threatening disease.
The actress took to her Twitter page to express her furor over the diminishing airtime for one of daytime's most iconic African American families.
"To all Y&R fans, [you] can't squeeze blood from a rock," Rowell posted in outrage. "It's the Incredible Shrinking Winters family."
Shockingly, Rowell then revealed that three actors were working overtime to keep her from reprising the role, threatening to quit the show if she were written back in. Rowell believes she was thisclose to a successful return until she was conspired against by her peers, tweeting, "I'm in the parking lot, but they won't let me in the building."
According to Rowell, a friend on the inside told her who was campaigning against her. Although she didn't name two of the actors she believes to be involved, Rowell outed a third.
"Word is, Lily don't want her Mamma -- read between the lines," Rowell remarked, seemingly hinting that actress Christel Khalil, who plays Lily, objects to having her return to the show.
Khalil has since responded to the allegation, tweeting a response of her own.
"[J]ust to let you know, whatever [Victoria Rowell] is saying about me is UNTRUE," Khalil replied. "It's not up to the cast about her coming back."
In an interview with TVGuide Canada, Paul Rauch, Y&R's co-executive producer, seemed to echo Khalil's remarks. When asked if he would bring Rowell back to the show, Rauch made it clear that he would.
"Yes," he said, indicating that he would welcome her. "That being said, I don't know her. I've heard about her history with the show and certain castmates. The decision is not mine. The decision is Maria's."
Meanwhile, fans continue to speculate on the identity of the performers who Rowell claims are trying to prevent her return. Many speculate that Michelle Stafford (Phyllis Summers) and Peter Bergman (Jack Abbott) might be the two unnamed actors.
After Rowell spoke out about her perception that race was a factor in her castmates' decision not to pre-nominate her for a Daytime Emmy in 2007, Bergman responded by saying, "I look at her with compassion and concern. I don't think she's playing with a full deck."
In 2008, Rowell shocked the soap world by revealing that, at some point in the past, Stafford had spit on her during a scene. Rowell protested, and Stafford apologized; however, hard feelings reportedly still remained.