Knock, Knock: Y&R's Eileen Davidson invites fans in for a detailed tour of her home and closet
Posted Monday, January 18, 2016 1:27:06 PM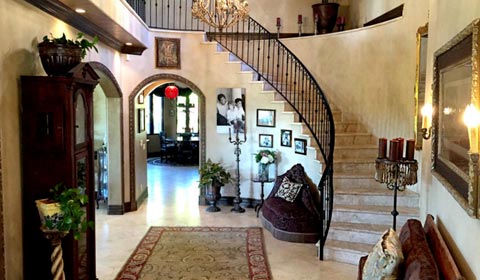 It might seem like Eileen Davidson lives on set, considering the last year had her playing both The Young and the Restless' Ashley Abbott and Days of our Lives' Kristen DiMera while also appearing on Bravo's The Real Housewives of Beverly Hills. But believe it or not, she actually does have a place to hang her hat (and stilettos) at the end of the day. Still skeptical? Maybe some photos of her lavish Los Angeles home will change your mind.
The actress graciously allowed Bravo TV's cameras into her glamorous pad, and the resulting photos give fans an in-depth view of her private life -- from her sparking pool to her bedroom bathtub, her closet, and beyond.
Check out the exclusive photos here then let us know what you think about Davidson's sprawling home.
What do you think about Davidson's house? Does she live how you might have imagined an Emmy-winning actress to live? We want to hear from you -- and there are many ways you can share your thoughts.
INS AND OUTS: WHO'S COMING AND WHO'S GOING