INTERVIEW: Y&R's Judith Chapman on the celebrated rerelease of her iconic 1977 film Scalpel
"He lost the face of the woman he loved... so he gave it to someone else." So reads the terrifying teaser for the 1977 psychological thriller starring The Young and the Restless' Judith Chapman (Gloria Fisher; ex-Ginny Webber, General Hospital; ex-Natalie Hughes, As the World Turns), set for DVD rerelease this Tuesday, February 20.
For those unfamiliar with the iconic plotline, Chapman plays a double role in a story that follows a deranged surgeon named Dr. Phillip Reynolds (Robert Lansing), whose daughter Heather (Chapman) has run away from home following the suspicious death of her boyfriend. When the unhinged doc happens across a young woman one night, her face beaten beyond recognition, he sees an opportunity to put his trusty scalpel to use and hatches a plan to "reconstruct" her face in the image of his missing daughter and so claim her sizeable inheritance.
Directed by John Grissmer and photographed by celebrated cinematographer Edward Lachman (who went on to serve as DP on films like Erin Brockovich and The Virgin Suicides) Scalpel is described as an exemplary slice of Southern-fried gothic that's finally being rescued from VHS obscurity in this revelatory new Blu-ray edition DVD from Arrow Films.
But don't take our word for it. Chapman spoke with Soap Central about the cult classic film and revealed some juicy Genoa City happenings while she was at it. Check out her interview below and don't forget to pick up your copy of Scalpel on Tuesday, February 20.
Soap Central: So how much fun has it been for you to relive an early project from your "vault" of movies. Has it been a blast for you?
Judith Chapman: Oh, it has! It took me by surprise, though. My agent in Atlanta had apparently been trying to reach me, but I'm not the best at staying in touch on phones and with messages; my phone is always full. So finally, he emailed me and said, "Judith, they are re-releasing Scalpel, and they need to talk to you." And then flash-forward a couple of days, and Edward, the brilliant cinematographer, calls me and said, "Yeah, they want to rerelease this film." And I was thinking, "Why?" [Laughs] But it's fabulous, and I said, "Well, I'm tickled pink."
Soap Central: What did you think when you saw yourself in the film again? It's been over forty years!
Chapman:Well, Edward, who's a wonderful cinematographer who has gone on to do brilliant things and has been nominated for a couple of Oscars and has won awards all over the world, he called, and he said, "You know, I have to work on the film." Because it looked like it had been photographed off the television. In other words, the color wasn't very pretty. It wasn't sharp, and it just wasn't what he created. So, he went in and color corrected the entire film. They sent me that copy, and I said, "Oh, my gosh, Edward! The film looks beautiful. I look beautiful. Thank you!" So, he really went in and did a lot of work on it, and I look like this peaches and cream porcelain doll, so I am very pleased with the outcome.
Soap Central: You've had a lot of projects since then, and I imagine you've grown a lot as an actress, but I'm wondering, if you were given the script for Scalpel for the very first time today, would you approach playing the characters that you played in the same way?
Chapman: I think so. I wanted to make a distinction between them physically and a distinction between them vocally because Heather, the actual daughter, was sophisticated -- a Southern lady. And Jane, as they called her, Jane Doe, after she had her face put back together, nobody knew where she was from, which was strange. She was a stripper, and she was not from a good Southern family. So, I think making those distinctions helped. Maybe because I am a little more experienced, I may have made them even more distinct. But no, I would have made the same choices. Just maybe better hairdos! [Laughs] There was some pretty crazy hair back then in the 70s. Good God, it's been a long time! But it was a pleasure to do dual roles. I've had the opportunity to do it a couple of times, Scalpel being my first, so I think I would have made more enlightened choices but basically, the same choices to make the two characters different.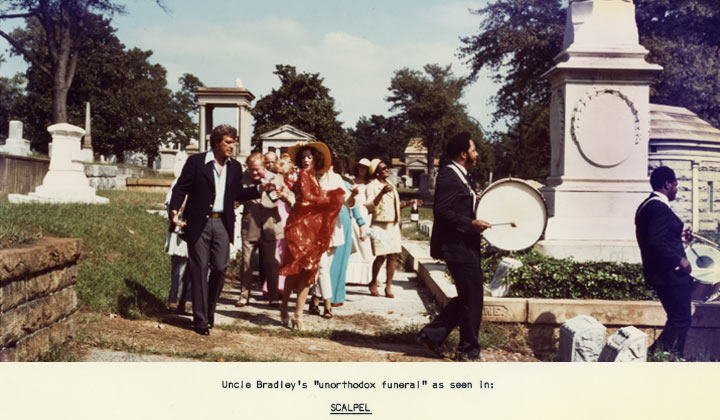 Soap Central: You mentioned that Edward called you when the rerelease was going to happen. Do you remember learning anything from him back during the original filming or sort of growing as an actress under his direction?
Chapman: It was wonderful because I'd starting working over ten years earlier in Spain, and I used to get wonderful advice from my sister. She'd say, "Judy," -- she always called me Judy -- "Make friends with the director, of course. But make friends with the lighting men and the cameramen, because they are the ones that see you through the lens; they see you through the camera." And so I had that information, so I was already interested in lighting and directing and staging. And Edward, this was his first 35mm film, but he was already brilliant... He was very familiar with the camera, and his thing is lighting -- that's why he gets nominated for Oscars and why he gets so honored, because his use of gels and use of colors. So yes, we became such good friends on the film, and I learned a lot from him about lighting, shadows, and the positioning of camera. I learned from him just as I did from Robert Lansing, who was a much more seasoned actor than I, certainly at the time. But Edward, I loved it because whichever character I was focusing on that day, he would always call me [by that name] when I came on set. He would say, "Hello, Heather" or "Hello, Jane." So, he helped set the stage for me being in character and staying in character. It was a challenge, because there were a lot of split screens... But Edward was very generous. And he kept a very quiet set, so we were able to concentrate. Some sets can get a little noisy. Actors like to have a good time and tell jokes, and it's like, "Can we shut up and focus on this?" And that goes for soap operas, too!
Soap Central: What memories do you have of your costar, Robert Lansing?
Chapman: Robert was so good to me, but he scared the bejesus out of me -- in a good way -- during one particular extremely violent scene. When I did the Blu-ray interview, they asked, "Why didn't this film get better distribution?" It was a time when the slasher films were all coming in -- Nightmare on Elm Street and Halloween. But it wasn't a slasher movie at all. It's about incest. It's an old gothic family -- greedy, money grubbing, killing for the family money. And the father was in love with the daughter. There is a potential rape scene in it, and [Robert's character] thinks it's Heather, and I'm saying, "No, it's Jane! It's Jane! You don't have to rape me." I'm pretending to be the other one, and I said [before filming], "Robert, don't be afraid." And he said, "Well, I'm going to be gentle." I said, "Go for it; don't worry about it, I'm fine." And then he attacked me, and I'm just sobbing in the scene. Afterward the director, sweet John Grissmer, he said, "Okay, you two, that was fantastic." It was basically a single shot. Edward is moving with the camera, so it's a moving shot to get it all in. But John said, "Eh, I think we need to do it again." And I was like, "Oh, no, John. Oh, please, please don't make me do this again." But he wanted to, and I thought, "It won't be as good, it won't be as urgent, it won't have that newness of the very first time of being attacked." But sure enough, Robert did it again, and after the tape was over, I was sobbing again, and then I started laughing and said, "You son of a bitch! You did it to me again. I can't believe it." But he was amazing. And actually, he was the one who said "Okay, Judith, time for you to get off that soap opera in New York and get your butt to L.A." He was one of my motivators for leaving As the World Turns and moving to Los Angeles. So, I have had lots of inspiration and encouragement from costars and cameramen.
Soap Central: As you said, the distribution for the film wasn't over the top back in the 70s because of the controversial content. How do you think it's going to be received now?
Chapman: Well, I can only hope that people will get a kick out of it and get a laugh out of it because it is very dated -- it's very 70s with the hair and the costumes. And I mean, it's a very slow-paced soap opera, a Southern gothic soap opera. Plus, there is a whole world of people out there who only focus on this genre of supernatural, slasher, gothic, horror, whatever you want to call it, so I'm hoping that maybe people will be interested in seeing Edward Lachman's early work and can see him and where he is now, as he's been nominated for so many awards and won so many awards. And maybe some will have some interest in seeing young Juju! Me being Juju, of course.
Soap Central: Well yeah, of course they will! It's you!
Chapman: I hope so. I really hope so. I mean, for Edward to go in and re-color every single frame to bring it up and make it beautiful, that's pretty impressive. That's his professionalism and his care and concern, and that care and concern is seen throughout. And there are some other cameos, like from wonderful character actor Sandy Martin [ex-Jimmy, Y&R]. So, there will be some familiar faces from many years ago who are still around. So, that was very exciting. Sandy and I did a play together. We did Night of the Iguana with Christian [Le Blanc, Michael Baldwin, Y&R] and Emily O'Brien [ex-Jana Fisher, Y&R] and Alley Mills [Pam Douglas, The Bold and the Beautiful].
Soap Central: Speaking of soap operas, the last time we really saw Gloria was when Nikki [Melody Thomas Scott] tried to convince her to date Victor [Eric Braeden]. Do you wish the writers would have gone there, or do you think Victor and Gloria would have been a disaster?
Chapman: Well, of course they would have been a disaster! But it would have been great fun. We did that very sweet scene, and everybody liked it, that scene at the bar where he buys me a drink and I'm doing my Mrs. Robinson impersonation, "Are you trying to employ me, Mr. Newman?" I think it was just one of those teases, but as I told Eric that day, I'm the only one in town he hasn't dated, so why not?! [Laughs] It didn't happen, but it would have been great fun. I think Victor has always had a soft spot in his heart for Gloria. And again, Eric never intimidated me. We hit it off the first day I was on the job. We had scenes, and I was like, "Yay! My first scenes are with Eric Braeden!" And as I say, he came down from his ivory tower and saw my one-woman play Vivien, which was a great, great honor. So, I would love to do some work with Eric. It would have been great fun, whether it would have been a love scene or just being Victor's employee for a while. Either way!
Soap Central: There's a new head writer on the show, so do you have any special wishes for Gloria now that maybe there's someone to give her a fresh direction or write her with a different approach?
Chapman: Do you mean give her something to do? You can say it! [Laughs] My wish for Gloria has always, is always, and will always be the same: she wants power. She wants what Ashley [Eileen Davidson] has, she wants what Phyllis [Gina Tognoni] has, she wants what Jack [Peter Bergman] has. She has never been taken seriously, and she is smart. They've let go of the blackmail storyline, the initial reason she went to work for Jack, but he now knows how valuable she is, and she just keeps proving herself, but they just haven't gone to the edge of giving her something really good to do. Always a bridesmaid, I'm afraid, my Gloria, always a bridesmaid. I've always thought that Gloria and her boys would make a fabulous third family. Whenever we get together, sparks fly. We're the raunchy family in town, and I think there's still room for that! To compete with the Abbotts and the Newmans -- or try to, anyway!
Soap Central: Since we're discussing Genoa City families, I must give you my condolences on [former Y&R producer] John Conboy. His recent death was news that really saddened the whole soap opera community.
Chapman: I've been following his demise for a couple of years, and I've seen him and had dinner with him and went to his house for Thanksgiving not this past year but the year before, thinking it might be his last. He rallied, but it was his time, and I am so honored to have known him. We've had so many laughs... and every time I did something, a new piece of theater or a new project, he just loved hearing about it. And he loved -- loved -- hearing about all the gossip at The Young and the Restless. He loved when we'd say, "You're not going to believe what's happened now!" He was a former producer who wanted to know everything that was going on, God bless him. He truly was a man about town; he went every place. And he was always so supportive of me, which was just heaven -- heaven, heaven, heaven. He saw Vivien twice and came to my production when I directed Equus many years ago in the early 90s. He was always very fond and supportive of me. And that's hard to find in this business. We had lots of fun together.
Soap Central: Well, thank you so much again for talking with me, Judith! Is there anything else that you want to add before I let you go?
Chapman: For the fans who want to pick up a crazy, old, ancient film, please do so! Several people have asked, "Well, is it in black and white?" And I say, "I'm old, but I'm not quite that old!" [Laughs] It's in beautiful, restored living color.
Look for the rerelease of Scalpel on Blu-ray this Tuesday, February 20. And for more information on Arrow Films, check out the company's official website.
What did you think about our interview with Chapman? How do you feel about her 1977 film Scalpel getting a rerelease? Would you like to see more of Chapman's Gloria in Genoa City? We want to hear from you -- and there are many ways you can share your thoughts.