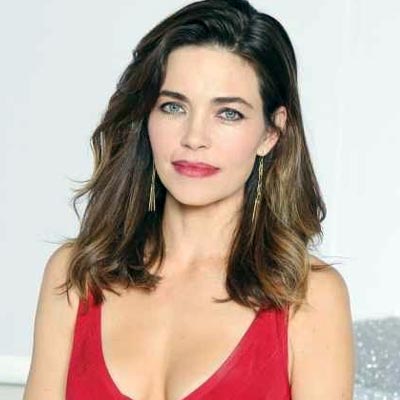 Amelia Heinle
When Amelia Heinle joined the Young and the Restless cast in March 2005, she was already widely known to daytime viewers through her work on the ABC soaps All My Children, Loving, and The City.
It was on Loving that Heinle met her future -- and now former -- husband, Michael Weatherly. Heinle eventually left daytime television in 1996 to care for her newborn son, August Manning.
Beginning in 1997, Heinle started focusing her career on the silver screen. For the next three years, she appeared in at least one feature film. But television still called to Heinle.
Following a successful appearance in the 2000 tele-movie "Sally Hemmings: An American Scandal," Heinle returned to daytime television -- this time All My Children. In 2007, Heinle married her Young and the Restless co-star Thad Luckinbill, and they had two children together. But ironically as Victoria and J.T. on the Young and the Restless, they were married, had one child, then were divorced. Ghost Whisperer
Brook Dennis
2009
CSI: Miami
Elizabeth Corbett
2009
The Young and the Restless
Victoria Newman
March 21, 2005
to Present
All My Children
Mia Saunders
July 19, 2001
to
June 15, 2004
Earth vs. the Spider
Stephanie Lewis
2001
Sally Hemings: An American Scandal
Harriet Hemings
2000
Purgatory
Rose/Betty McCullough
1999
Black Cat Run
Sara Jane Bronnel
1998
Quicksilver Highway
Darlene
1997
The City
Steffi Brewster
1995-1996
Loving
Steffi Brewster
1993-1995 Uncorked
2001
The Limey
Adhara
1999
At Sachem Farm
1998
Liar's Poker
Rebecca
1997 Daytime Emmys Pre-Nomination, Outstanding Supporting Actress (2009, 2011,
2014
; for The Young and the Restless)
TV Guide Was named one of TV Guide's choice for "Daytime's Big Screen Potential Stars."
TV Guide Was named one of TV's Most Beautiful Women in Soap Opera Digest. PLACE OF BIRTH: Phoenix, Arizona
DATE OF BIRTH: March 17, 1973
HEIGHT: 5'6"
MARITAL STATUS: Married,
Thad Luckinbill
[Mar 3, 2007 to Present]
CHILDREN: Son, August Manning [Jan 10, 1996]; Son, Thaddeus Rowe [Nov 2, 2007; 8 lbs, 21 inches]; Daughter, Georgia March [
Dec 17, 2009
]
News Archive
: Reports say Heinle will not renew AMC contract. [May 10, 2004]
News Archive
: Exhaustive search over, Heinle is Y&R's new Victoria. [Feb 14, 2005]
News Archive
: Heinle, Luckinbill welcome second child. [Dec 21, 2009]
News Archive
: Heinle sends mixed messages in revealing Luckinbill's exit. [Sep 26, 2010]
News Archive
: Amelia Heinle inks new multi-year year with Y&R. [Nov 16, 2013]