Outgoing ABC Daytime President Angela Shapiro sure knows how to make an exit. After years of rumors, the network has now confirmed that Eva LaRue (ex-Maria Santos) will return to the show.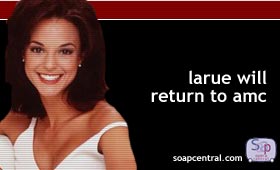 "Our fans have been waiting a long time for her return, and it's my pleasure to welcome her home," said Shapiro
LaRue made her exit from All My Children in the fall of 1997, when she was presumed dead following the crash of a TransGlobal aircraft. Her body was never found.
LaRue did return as a "vision" to husband Edmund the following year, though it was carefully crafted to not refer to Maria as a ghost.
A first airdate for LaRue was not immediately available.