An All My Children spokesperson has confirmed that Mark Consuelos (Mateo Santos) will be exiting his role. The spokesperson, however, declined to comment on whether or not Consuelos' exit will be permanent.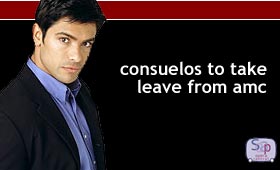 Consuelos, who has made no attempt to hide his desire to work in primetime television and feature films, has landed a role in the Miramax World War II action flick The Great Raid. The movie is based on the true story of MacArthur's secret raid of a POW camp to free Americans.
Also slated for the filmare Benjamin Bratt and James Franco.
In order to accommodate his part on the film, Consuelos will exit All My Children for about three months.
During Consuelo's absence, Kurt Caceres will assume the role of Mateo. Caceres currently appears on he PBS series American Family. Ironically, Consuelos has a recurring role on the PBS drama.
Caceres makes his first appearance on July 3.
Photo: ABC