Online rumors continue to question Finola Hughes' (Anna Devane) future with All My Children.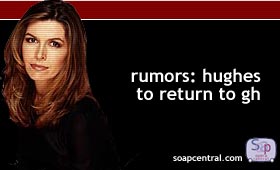 Hughes joined the cast of All My Children in July 1999. Her addition to the cast was clouded by both speculation and controversy. When the news of Hughes' addition to the AMC cast was made, fans immediately wondered if the actress would be played Anna Devane, a role that the actress created in 1985 on General Hospital. Instead of playing the supposedly deceased Anna, Hughes came aboard as Alexandra Devane, Anna's twin sister.
Even before her first on-screen appearance, some fans were opposed to Hughes' placement on AMC. Fans of General Hospital felt slighted that Hughes made a return to daytime television on a soap other than General Hospital. Later, when Hughes also began playing Anna Devane, those same fans were outraged that All My Children had "hijacked" a character from their show.
Another source of controversy was Hughes' reported "mega bucks" salary. Reports of Hughes' sizeable salary prompted some All My Children fans to wonder if the actress' addition to the show resulted in the dismissal of other stars in an attempt to free up some cash.
Hughes is said to have recently signed a contract extension with All My Children, however, rumors hint that the actress will only remain with the program to wrap up her storyline. If the rumors are true, it would seem certain that Hughes would remain on AMC through the birth of her character's unborn child -- tentatively scheduled for the May Sweeps period.