Ending months of speculation, Emmy winner Josh Duhamel (Leo duPres) has announced that he is leaving All My Children.
At the annual AMC Fan Club Luncheon held last month, Duhamel announced that he had taped his final scenes for the show on September 20th. Those scenes will air later this month.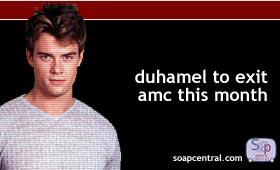 Soap Opera Central first reported on the rumors of Duhamel's exit in March of this year. The talk came two months prior to Duhamel winning the Outstanding Supporting Actor Emmy at this year's Daytime Emmy Awards. The Emmy win only added fuel to the rumor mill. At about the same time came chatter that Duhamel was being considered for a role on Passions.
Duhamel, like many daytime actors before him, has expressed an interest in pursuing work in feature films. Unlike some of his predecessors, most critics believe that Duhamel can make a name for himself in Hollywood.
Duhamel joined the cast of All My Children on November 22, 1999. He makes his final AMC appearance on October 17th.