Richard Culliton, who assumed the role of head writer to much fanfare last year, has been let go from All My Children.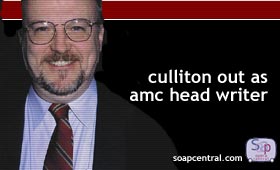 According to inside sources, the decision to dismiss Culliton came from the very top of the network -– ABC Daytime President Brian Frons. Frons, who took over the helm of ABC Daytime on August 26th, has been actively evaluating the performance of each of the network's soaps. In September, Frons announced that fledgling soap Port Charles would get a special one-hour airing in One Life to Live's timeslot later this year. A few weeks later, Frons announced that One Life to Live's head writing team had been replaced.
Culliton joined AMC as head writer in June 2001. The network has not named a successor to Culliton, but reports hint that the show's existing writing staff will have the opportunity to submit story ideas. These ideas would be taken into consideration when selecting a new head writer.
During Culliton's albeit brief tenure, the show wrapped up several ongoing and loose storylines and saw the return of several familiar faces. Upon assuming the top scribe position, Culliton promised to honor the show's tradition and focus on family storylines and core characters. Culliton did live up to his promise, bringing back familiar characters such as Frank Hubbard, Tim Dillon, and Kendall Hart. Culliton's first major storyline involved a touch-and-go romance between Bianca Montgomery and Frankie Stone, cut short by Frankie's death. More recently, Culliton helped wrap up the Proteus druglord saga.