Congratulations goes out to Kelly Ripa (ex-Hayley Vaughan) and Mark Consuelos (ex-Mateo Santos). The couple welcomed their third child together on February 24.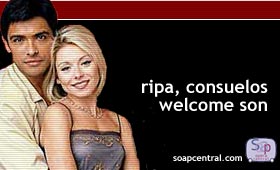 Ripa, who serves as co-host to Regis Philbin on the nationally syndicated Live morning talk show, delivered second son Joaquin via Caesarean section on Monday at 9:31 a.m. Joaquin weighed in at 8 pounds, 5 ounces.
Ripa and Consuelos' other children are five-year-old son Michael and almost-two-year-old Lola.
According to reports, Ripa tried to phone "Reege" while Live was on the air to break the news, but the actress was unable to find a telephone in the delivery room.
Ripa will be away from television through May while on maternity leave. Her previous maternity leave lasted just a month. Ripa was dropped to recurring status on All My Children in December, but has said that she will make return appearances from time to time. Consuelos also left All My Children in December, but it is unlikely that the actor will be making any return AMC appearances. Instead, Consuelos has opted to focus his career on feature films. He will appear in the World War II flick The Great Raid later this year.