Long-time All My Children fixture Jennifer Bassey (Marian Colby) has been taken off contract with the show.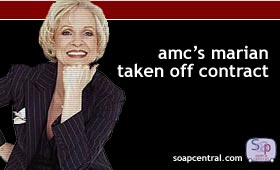 Bassey, an Outstanding Supporting Actress Daytime Emmy nominee in 1999, has been with All My Children in various capacities since 1983. Though the actress had been see on-screen for nearly 15 years, it wasn't until 1998 that the actress was given a long-term contract with AMC.
In recent months, however, Bassey's character has had very little airtime. With Marian and Stuart living a happily-ever-after life, it seemed that the writers of All My Children could not find a use for either character.
The good news for Bassey's fans is that the actress will remain with the show in a recurring capacity. This means that Bassey will see work on an "as needed" basis. According to Bassey, her character will not be killed off.
A message on Bassey's official web site indicates that the actress and her companion, Luther, have gone to a warmer climate together for some quiet time.