All My Children will again make daytime television history this week - and in doing so it finds itself smack dab in the middle of controversy.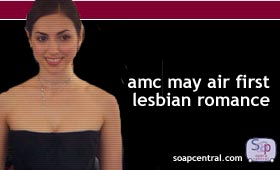 In November 2000, Bianca Montgomery, daughter of the legendary Erica Kane (played by Eden Riegel and Susan Lucci, respectively) came out of the closet. This marked the first time that a core character of a soap opera was announced to be lesbian. Reaction to "making" Bianca gay came fast and furious -- with some All My Children viewers talking boycott and others applauding the show's decision to be a more encompassing canvas of American life.
The resulting whirlwind prompted The Gay and Lesbian Alliance Against Defamation (GLAAD) to conduct a study about daytime viewers' opinions of a homosexual character and "gay storylines." Soap Opera Central was pleased to have been an integral part of that study.
Over the past few weeks, Bianca and Boyd have both been trying to learn more romantically about their Enchantment co-worker Lena. While viewers have seen Lena have sexual relations with a man -- Michael Cambias -- they've also seen Lena be more than just a little flirtatious with Bianca.
On April 23rd, Bianca and Lena will share an on-screen kiss, the first such kiss to occur on a major US network during the daytime programming hours. News of the kiss -- or something more -- was first reported by the NY Post last month - and media outlets across the country were quick to pick up on the story. ABC, however, was quick to deny that there would be gratuitous sex shown on the air.
"A relationship will develop between Bianca and Lena," an All My Children spokesperson said in a statement. "However, at this time, there are no plans for explicit love-making scenes on-screen."
Over the past week, Soap Opera Central has conducted a poll to learn how viewers are reacting to the same-sex kiss. The poll asked: "How do you feel about AMC's rumored lesbian 'romance'?" 41-percent of the respondents said they felt it was a "smart, bold move," while 33-percent said they were disgusted by the idea and wouldn't want to see a gay scene on the show.
"ABC said they were surprised by the 41 percent who said bring it on, but because that 33 percent say they're repulsed, that's why we need to see it," said Scott Seomin, GLAAD's entertainment media director. "Daytime dramas are known for their over-the-top storylines and love triangles. Gay and lesbian characters are sorely missing (from daytime TV) and would add a lot to the crazy plots as well as educate viewers and enlighten people to our community."