As reported earlier this month, Olga Sosnovska (Lena Kundera) has been signed to a contract with All My Children. The move to place Sosnovska on contract has required AMC's writing staff to rework some of its storylines.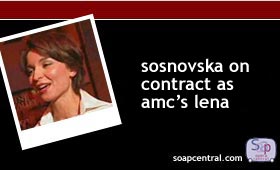 According to a show source, Sosnovska's stint on All My Children was slated to last only through the end of Spring. However, Bianca and Lena's budding romance has reportedly won over some network execs who are now mulling the possibility of exploring the pairing in greater detail. Though Sosnovska is remaining with the show, it is unclear if her character will remain in a romantic relationship with Bianca.
In appointing Megan McTavish as AMC's new head writer earlier this month, ABC Daytime President Brian Frons mentioned that All My Children "is venturing into new and uncharted territory." The remark could very well reference Bianca and Lena's relationship.
All My Children made daytime television history last month by airing the first lesbian kiss on a daytime drama. Ratings for the April 23 episode of All My Children, the episode in which the kiss occurred, were up by 13% over other AMC episodes that week.
A poll conducted by Soap Central earlier this month asked visitors if they'd like to see Lena remain in Pine Valley. In surprisingly overwhelming numbers, AMC fans said that they'd like to see Sosnovska's character stick around. Approximately two-out-of-three voters wanted Lena to continue on, while about 25% felt that Lena needed to go either because she'd outlived her usefulness or because of her controversial storyline.
in 2000 asked visitors how they felt the writers would ultimately handle Bianca's homosexuality. A sizeable portion - 43% -- of voters said that they felt Bianca would be confused about her sexuality, but ultimately turn out to be heterosexual. Only a scant 11% believed that Bianca would find a lover and live a happy life. That total was about equal to the number of respondents who felt strongly that homosexuality should not be addressed by a daytime drama. --->