Alexandra Daddario (Laurie Lewis), part of the All My Children cast for less than a year, has been let go. She will make her final on-air appearance later this month.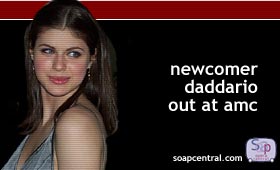 Daddario joined the cast of All My Children in October 2002, in was originally slated to be a short-term role. Show execs were impressed with the newcomer's work that they quickly offered her a contract.
Bumped up from recurring to contract status after just a matter of a few months, Daddario was set to be an integral part of the show's teen scene. Laurie was paired opposite of Adam "JR" Chandler, Jr., but when JR was written out of the show things quickly became bleak for Daddario and her character.
Though Daddario's Laurie was placed in a romance with Jamie Martin and her relationship with her alcoholic father were briefly explored by the writers, Laurie has seen little action and her purpose in Pine Valley has become questionable.
A final airdate for Daddario has not been announced and an ABC spokesperson declined to comment on Daddario's status. Messages to Daddario's rep were unreturned at "post time."