Perhaps hoping that some change will spark a new fire of creativity and higher ratings, ABC has announced that Julie Hanan Carruthers will assume the executive producer spot on All My Children next month. Carruthers, who is currently executive producer of the soon-to-be-ending ABC soap Port Charles, will replace Jean Dadario Burke, who has served as the show's executive producer since 1998.
"Julie is an incredibly strong, talented and innovative executive producer," said Frons in a statement. "Her passion and spirit will be a perfect fit for the ground-breaking hallmark that is All My Children. I am very pleased to be able to keep her part of the ABC Daytime family."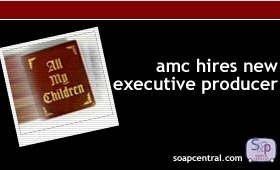 Carruthers is no stranger to ABC's daytime lineup. Carruthers' relationship with ABC dates back to 1994 when she joined General Hospital as a producer. Two years later, in 1996, she was named a supervising producer. During her time with General Hospital, Carruthers earned five Daytime Emmys for Outstanding Daytime Drama. Since 1997, Carruthers has served as executive producer of Port Charles. Prior to migrating to ABC, Carruthers worked on the NBC soap Santa Barbara, winning three consecutive drama series Emmys in 1988, 1989 and 1990.
Julie Hanan Carruthers grew up in Sarasota, Florida, and received her degree in radio, television and film from the University of Texas. She and her two children, Amanda and David, will relocate to New York.
The change is the second major behind-the-scenes change this year. In May, All My Children announced that Megan McTavish would be returning as head writer.
Carruthers first day as executive producer is September 29.
Learn more about AMC naming Megan McTavish as its head writer