Daytime Emmy winner Jacob Young (ex-Lucky Spencer, General Hospital) has signed on to play the role of All My Children's Adam Chandler, Jr. The role was believed to have already been filled by model Justin Bruening, but AMC's casting department decided earlier this year that Bruening worked better as Jamie Martin and continued the search for another performer to play Adam Jr.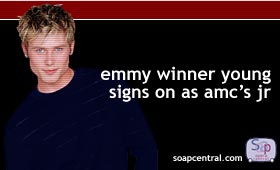 Young is no stranger to daytime television. The actor has appeared on both CBS's The Bold and the Beautiful as well as ABC's General Hospital. His work on both of those programs earned him Daytime Emmy nominations. In 1999 Young earned his first nomination in the Outstanding Younger Actor category for his portrayal of Rick Forrester on B&B. Three years later, Young earned an Emmy victory for his work as GH's Lucky Spencer.
Young left General Hospital in February 2003 with the intent of focusing on other projects, including his budding musical career. Young's self-titled debut album hit stores in September 2001.
Taking on a recast is something that is not new for Young - he took over the role of GH's Lucky from multiple Emmy winner Jonathan Jackson -- so he should fit in well as AMC's Adam Chandler, Jr. Adam "JR" Chandler, Jr. has undergone a lot of changes in recent years. Since 2001, there have been three other actors to hold the role of the son of Adam Chandler and the late Dixie Cooney.
Jesse McCartney played JR (then known as Junior and AJ) from 1998 through 2001. Though extremely popular with fans, the writers wanted to age the character and McCartney was too young for the part. Next on board was newcomer Jonathan Bennett, who joined the cast in November 2001 before being let go in September 2002. Andrew Ridings was next in line in October 2002, but he failed to win over fans - many of whom were critical of his acting abilities. Ridings left AMC in February 2003 when JR sneaked out of town to work on a cargo ship.
Young first airs on October 2.