Maximillian Alexander (Carlos Reyes) will exit All My Children later this fall in what is being called a storyline-dictated exit.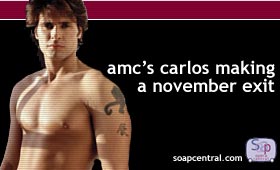 Alexander's exit has been the subject of rumors for several months. Within weeks of soap newcomer Alexander's first appearance in February of this year, some Internet users were already clamoring for the role to be recast. At about the same time, the show put out a cryptic casting call for a handsome, Latino male -– and the chatter surrounding Alexander's status with the show intensified.
In recent weeks, it was revealed that Alexander's character, Carlos, was on the run from a gang of Argentinean thugs who were out to avenge the death of Sergio, a man Carlos claimed to have killed because he was attempting to sexually assault a young woman. The gang recently landed in the United States with the hopes of tracking down Carlos. Carlos is currently not tied to anyone romantically and his on-screen time has dwindled.
During his off time, Alexander has focused on his musical career, including a planned release of a solo album.
Alexander taped his final scenes on November 3. He will last air on-screen on December 4.