Though nothing official has been said by either side, there are strong indications that Thorsten Kaye (ex-Ian Thornhart, Port Charles; ex-Patrick Thornhart, One Life to Live) may soon be joining the cast of All My Children.
According to inside sources, All My Children has been trying to land Kaye for several months and negotiations are ongoing. Kaye, a multiple Daytime Emmy nominee is again nominated this year in the Outstanding Lead Actor category for his work on the now-cancelled Port Charles.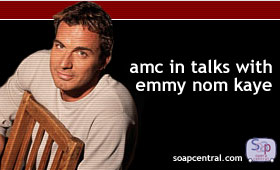 Kaye is no stranger to ABC Daytime, having already appeared on two of the network's soaps. From 1995 to 1997, Kaye portrayed Patrick Thornhart on One Life to Live. His character was written off with much of Llanview believe that he was dead. In 2000, Kaye surfaced on fledgling soap Port Charles. There, Kaye portrayed Ian Thornhart, the previously unknown brother of his One Life to Live alter ego. Kaye remained in the role until the cancellation of Port Charles in October 2003.
Since Kaye has appeared as two siblings on two different ABC soaps, it makes handling his casting on All My Children a bit sticky. While it might be tempting for network execs to bring one of the Thornharts to All My Children, it also creates some trouble with backstory and storyline development - especially with the plethora of crossovers between All My Children and One Life to Live. However, as seen with All My Children writing former General Hospital character Anna Devane into its storylines, it's not impossible to do.
A spokesperson for ABC declined to comment on Kaye's possible addition to the All My Children cast.