An ABC spokesperson has now confirmed that Marcy Walker's (Liza Colby) contract with All My Children has not been renewed. However, ABC Daytime Brian Frons says he hopes that Walker will continue with the show on a recurring basis.
Walked originated the role of Liza Colby on All My Children in 1981. Back then, Liza was a crafty and troublemaking teen who found herself sharing her boyfriend - Tad Martin - with her mother. After three years with AMC, Walker left the show in 1984.
Immediately following her run on All My Children, Walker set up shop on the NBC soap Santa Barbara. During the show's seven-year run, Walker amassed three Daytime Emmy nominations and was named Outstanding Lead Actress in 1989.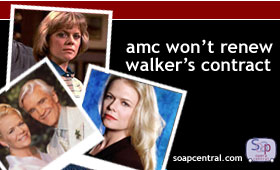 After the cancellation of Santa Barbara, Walker checked in for a two-year stay on CBS's Guiding Light as Tangie Hill along with appearances in a handful of made-for-television movies.
In September 1995, Walker was lured back to All My Children and resumed her scheming ways as Liza Colby. Liza was a front burner character for several years, breaking up the marriage of Tad and Dixie before ending up as another of Adam Chandler's many wives. In recent months, however, Liza had been seldom seen and her tough-as-nails persona has all but disappeared.
Walker's on-screen family has faded in recent months. Jennifer Bassey (Marian Colby Chandler), Liza's mother, has been off contract for a few years now. Her half-sister, Amelia Heinle (Mia Saunders) exit the show earlier this year.
"In a perfect world," Frons comments, "she continues [appearing on All My Children], but she's recurring."