An All My Children spokesperson has announced that Marcy Walker (Liza Colby) has agreed to return to All My Children on a recurring basis.
As reported previously by Soap Central, Walker's contract with the show was not renewed. Walker made her final contractually obligated appearance on September 28, when Liza fled town with Colby to make a new life in a town "named after a moose."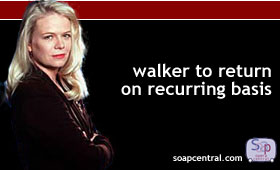 All My Children head writer Megan McTavish says that Walker "graciously agreed" to return to the show on a recurring basis. A performer on recurring status is paid on a per-episode basis and used as storyline warrant. The performer is not, however, obligated to be available for those episodes and writers may need to adjust storylines in that event. A contract performer, however, is contractually obligated to a show and cannot actively pursue other roles (unless permitted by the network). Contract players are also guaranteed a salary and a set number of episodes per week or month.
Storyline previews hint that Walker will be featured somewhat prominently in the November Sweeps period.
Walker, a Daytime Emmy winner in 1989 for her work as Eden Capwell on Santa Barbara and also a nominee during her stint on AMC, had been a member of the All My Children cast for a dozen years. Walker first joined All My Children in 1981 and remained with the show through 1984. She later returned in September 1995 and has been with the show ever since.