With Riegel exiting, should AMC recast the role of Bianca?


Yes. Bianca is too important to just disappear one day.
48%
Maybe eventually, but recasting too soon wouldn't be wise.
21%
No. I don't think anyone can follow in Riegel's footsteps.
18%
I haven't decided. I'm still too shocked by the news.
6%
It might make for dramatic story if Bianca was killed off.
2%
I don't really care what happens to Bianca at this point.
2%
Honestly, Bianca isn't need now. Writing her off is fine.
1%
Other
0%
Poll Posted: January 26, 2005
According to a posting on her official message board, Emmy nominated All My Children star
Eden Riegel
(
Bianca Montgomery
) will be leaving the show next month.
Riegel, who joined the cast of All My Children in July 2000, has been rumored to be mulling an exit from AMC for some time. Recently, the actress inked a new contract with All My Children, though the terms were never revealed and it was widely rumored that the contract extension would last only a few months.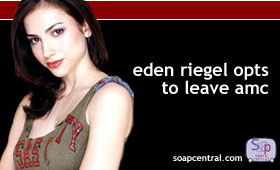 During her tenure at All My Children, the 25-year-old Riegel has amassed awards and critical acclaim for her portrayal of one of daytime's first openly lesbian characters. In addition to numerous Soap Opera Central Dankies - Riegel was named Outstanding Overall Soap Performer in 2004 and has won Outstanding Younger AMC Performer nods in each of the past five years - Riegel earned Daytime Emmy nominations for Outstanding Younger Lead Actress in 2001, 2002 and 2004.
Riegel reportedly already taped her final All My Children scenes. Those scenes are scheduled to air on February 24, 2005.
Riegel will relocate from Manhattan to the West Coast where she will actively audition for the upcoming pilot season.
While fans had speculated that Bianca would leave Pine Valley and go to Poland to be with her former girlfriend, Lena, that appears unlikely. However, there is chatter that the role of Bianca Montgomery could be recast in the future, according to setside sources.
An All My Children spokesperson was unavailable for comment.