Emmy award-winning soap veteran Ian Buchanan will join the cast of All My Children later this month. This will mark the third different ABC soap on which Buchanan has appeared during his career.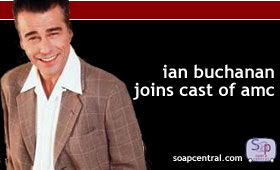 A native of Hamilton, Scotland, Buchanan earned his big break in acting when he landed the role of Duke Lavery on ABC's General Hospital. He later added new fans during a five-year run as Dr. James Warwick on the CBS soap, The Bold and the Beautiful. It was during his tenure at B&B that Buchanan won a Daytime Emmy for Outstanding Actor in a Drama Series. More recently, Buchanan appeared as a vampire on the now-cancelled series Port Charles.
On All My Children, Buchanan will play the role of Dr. Greg Madden, a fertility expert who exposes a big secret. Buchanan will initially find himself tied into storylines with Erica, Kendall and Greenlee.
Buchanan makes his first appearance on May 30, 2005.