All My Children has scored a major casting coup by luring two-time Emmy-winning actress Cady McClain (Dixie Martin) back to the show. While optimistic fans have been hoping for McClain's return for several months, it wasn't until ABC issued a statement that they realized they'd been granted a "Christmas miracle."
"I am thrilled to be returning to a show where I have such a long and beautiful history. It is an especially excellent cast, and I am looking forward to working with some new and very talented actors, as well as revisiting with some dear old friends," McClain said in a statement. "I hope the audience will enjoy the incredibly thrilling storyline Megan McTavish has created as much as I am going to enjoy playing it... It's going to be a great 2006."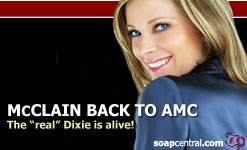 McClain's long relationship with All My Children began in October 1988 and, over the next 14 years, earned the actress a Daytime Emmy for Outstanding Juvenile Female (now called Outstanding Younger Actress) along with two additional Daytime Emmy nominations and legions of fans.
In 2001, McClain crushed fans by announcing that she would not be re-signing her contract with the ABC soap. At the time, the actress stated that she wanted an opportunity to pursue other ventures outside of daytime television. Just two years later, she stunned the daytime industry when she hopped aboard rival soap As the World Turns as a recast Rosanna Cabot. Through much of her four-year run with the CBS soap, McClain appeared on a recurring basis. It was said that the actress enjoyed not having a binding contract and its accompanying ability to choose her own workload. But during her "recurring" appearances, McClain often had more on-screen time than the show's contract players. In 2004, McClain was awarded the Daytime Emmy for Outstanding Supporting Actress for her work as As the World Turns' Rosanna.
When McClain revealed earlier this year that she planned to exit As the World Turns' fictional town of Oakdale, fans immediately wondered if she might return to All My Children. It was a similar scenario to one that transpired when the actress took a two-year break from All My Children from 1996 to 1998. During that time, fans repeatedly lobbied the actress and ABC to bring Dixie back to Pine Valley. Back then her return was fairly easy to pen: Dixie has previously left Pine Valley after she and her husband grew apart. This time, well, it might not be as easy. After all, it was revealed that Dixie and her unborn child were killed in an automobile crash.
"Dixie Martin is such a beloved character, with deep ties to our present storylines, and fans have long awaited her return to Pine Valley. I am delighted that Cady will be reprising the role she made famous, and we can look forward to the mysterious events surrounding Dixie's homecoming," said ABC Daytime President Brian Frons.
In addition to returning to the show as an actor, McClain will also type a weekly blog about what Dixie has been up to since her "death." ABC also featured a blog for Kimberly McCullough's (Robin Scorpio) return to General Hospital earlier this year.
Though McClain will return on-screen to All My Children by month's end, don't look for her to return to Pine Valley just yet. For the immediate future, Dixie will remain in hiding... in Europe.
McClain makes her return on December 23.