As previously reported, Marcus Patrick will be joining the cast in late-June. Initially, Patrick was said to have been cast in the role of Marcus, an "up and coming attorney" who would interact with Erin and Aidan. The role, however, has been changed. Patrick will now tackle the role of Jamal Cudahy, the adopted son of Tom Cudahy and Livia Frye.
Jamal was last spotted in Pine Valley in 1995. At the time, the then-pre-teen boy had finally been formally adopted by Tom and Livia. Jamal is the biological son of Alec McIntyre and Janeen Wilson.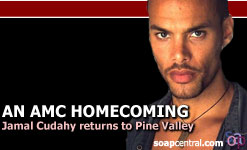 Jimmy Wiggins originated the role of Jamal in 1993. When the show decided to feature the character more prominently, the role was recast and actor Amir Williams landed the part. Williams remained with the show until 1995 when the entire Cudahy-Frye family was written out of the show.
Patrick joins the All My Children cast with a substantial portfolio. In the world of daytime television, Patrick has appeared on NBC's Days of our Lives and Passions. But outside daytime television, the actor has made guest-starring appearances on CSI: Miami, Half & Half and My Wife and Kids. Patrick has also wrapped work on two feature films, Dirty Laundry and Descent, both of which are due out later this next year.
It is unclear if the role for which Patrick was originally said to have been cast was always intended to be Jamal - or if a last minute writing decision to change the character to one with ties already in Pine Valley. This example serves as a reminder that casting calls can always change, as sometimes the shows put them out merely as a ruse to keep their true intentions a secret.
Fans wondering if Jamal's return will also bring veteran actor Richard Shoberg (Tom Cudahy) back to Pine Valley will have to wait for answers. An AMC spokeperson stated that there are no plans for Shoberg to return to the show at this time.
Patrick first airs on June 29th.