It was just one year ago that All My Children fans were deluged with Internet postings claiming that two-time Emmy winner Julia Barr (Brooke English) would no longer be a part of the AMC cast. The posts turned out to be nothing more than idle speculation. Now, however, comes official word that Barr is indeed leaving the show she has called home for 30 years.
While Barr's exiting will no doubt be heartbreaking for fans of the show, the news of her exit isn't entirely unexpected. For many months -- maybe even years -- Barr's limited screen time has been fodder for rumors that the actress was on her way out. Indeed Barr hasn't had a storyline of significance in nearly four years. In 2002, Brooke prepared to marry Edmund Grey while all the while keeping mum about the fact that Edmund's late wife, Maria, wasn't really dead.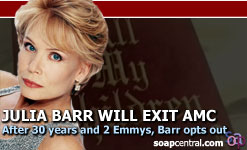 "I am so proud to have been a part of a show that was once a television icon," Barr said in a statement that appeared to be more of a jab at the ABC soap. "I want the fans to know how much I truly appreciate all of their love, support, loyalty and enthusiasm over the years."
Barr had been given the opportunity to remain with All My Children on a recurring basis, but the actress passed on the offer. At no time was it ever indicated that ABC would offer Barr a new contract. Insiders report that Barr has already put out feelers to test the possibility of joining another daytime drama series. Barr appeared previously on Ryan's Hope.
Barr joined the cast of All My Children in 1976. With the exception of two-year break from 1980-1982, the actress has logged almost 30 years with the ABC soap. During that incredible run, Barr has racked up six Daytime Emmy nominations and, in 1990 and 1998, two wins in the Outstanding Supporting Actress field.
An ABC spokesperson did not return requests for comment on Barr's upcoming exit. Barr makes her final appearance on December 20th.