After months of whispers on Internet message boards, All My Children has finally confirmed that Jeff Branson (Jonathan Lavery) is exiting the show. Talk of Branson's exit had been generated by the Emmy nominated actor's almost non-existent screen time in recent weeks.
"Jonathan Lavery will be written off," an All My Children spokesperson said in curt statement.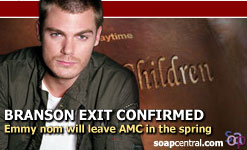 Branson joined All My Children in June 2004. Nearly a year later, as his on-screen persona sunk further and further into insanity, Branson exited the show when Jonathan was presumably killed off in an explosion. Fans were upset that the actor had been let go, but the show had a secret: they weren't quite done with the actor. Branson's Jonathan turned up very much alive in August 2005 and Jonathan's mental instability was chalked up to a brain tumor.
But after the cause of Jonathan's erratic and violent behavior was discovered, Branson saw little in the way of on-screen time. Jonathan was without storyline and relegated to the background.
How do you feel about the impending exit of AMC's Jeff Branson

I'm furious. Branson was underused by AMC and has a lot of story potential.
68%
I've never cared for Jonathan so I am pleased that Branson will be leaving.
18%
Branson hasn't had story in a long time, so this is probably for the best.
7%
I am indifferent to Branson' exit, but I hope his exit is handled well.
5%
I have no comment on Branson's exit at this time.
1%
Other
0%
Poll Posted: February 17, 2008
A newcomer to television acting when he joined All My Children, Branson quickly earned fans with his good looks and acting prowess. In 2005, Branson was nominated for an Outstanding Supporting Actor trophy at the Daytime Emmys. ABC featured Branson heavily in publicity events across the country and, in February 2007, the actor switched jobs with a tattoo artist from Dekalb, Illinois as part of a February Sweeps stunt.
With Jonathan being tied on-screen to actress Leven Rambin (Lily Montgomery and Ava Benton), some fans have speculated that Rambin will also be exiting the show. Those fears were bolstered by a statement made last year by Rambin in which she seemed to hint that she had no desire to extend her stay in Pine Valley. Not so, according the show.
"Leven Rambin is not leaving," a show rep insists.
Branson will exit in the spring. A final airdate has not yet been announced.