Emmy-winning writer Charles Pratt, Jr. has been named new head writer of All My Children. Pratt, who will also serve as consulting producer, succeeds the show's previous head writing team of Barbara Esensten and James Harmon Brown.
"Charles Pratt, Jr. is a master storyteller. His talents in writing today's biggest primetime hits in conjunction with his vast experience with daytime dramas will undoubtedly elevate All My Children stories in new and exciting directions," Brian Frons, president, Daytime, Disney-ABC Television Group, said in a statement.
Pratt joins All My Children with an impressive resume. From 2002 to 2006, Pratt partnered as co-head writer on General Hospital with Robert Guza, Jr., who currently serves as the show's top scribe. During that time, Pratt earned three Daytime Emmy wins (one for Outstanding Writing Team and two for Outstanding Drama Series). He also picked up three other nominations.
General Hospital isn't Pratt's only previous daytime writing gig. Before heading to Port Charles, Pratt was part of the writing teams of the now-cancelled NBC soaps Santa Barbara and Sunset Beach. During his tenure with Santa Barbara, Pratt earned two Daytime Emmys and four Emmy nominations.
Pratt has not limited the scope of his work to the daylight hours. In primetime he has written for Dynasty spinoff The Colbys; Melrose Place; Models, Inc.; and Life Goes On. In addition to his work as a writer, Pratt has worked as a consulting producer for both Ugly Betty and Desperate Housewives.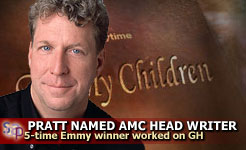 A consulting producer typically works as a bridge between a show's writing and production teams.
"I am incredibly excited to welcome Chuck as head writer of All My Children. I look forward to his contemporary storytelling sensibility, his warmth and sense of humor enriching the entire canvas of Pine Valley," commented AMC executive producer Julie Hanan Carruthers.
When he reports to work on June 2, Pratt will become the third head writer of All My Children in the past 18 months. In February 2007, AMC fired then-head writer Megan McTavish amid complaints that the show had become too dark. McTavish was succeeded in May 2007 by Esensten and Harmon Brown, whom Frons praised for "telling compelling stories that take characters and viewers on a great emotional ride."