For several months, All My Children has featured fictional soldiers discussing the very real issue of the war in Iraq. Beginning this week, a real-life Iraq war veteran will assume the role of Brot Monroe. The storyline kicks off with a special episode featuring a series of unscripted support group sessions with other veterans of the war.
On November 7, newcomer JR Martinez assumes the role of Brot Monroe, a soldier who was believed to have been killed during active duty in Iraq. This is not going to be your typical back-from-the-dead storyline seen on most soaps. This time around, All My Children will take a decidedly different route in exploring this storyline -- and much of the reason for that is the show's newest cast member.
"We are honored and delighted to welcome JR Martinez to the cast of All My Children," executive producer Julie Hanan Carruthers said in a statement. "JR represents the best of the human spirit. His commitment to help his fellow service men and women and their families has inspired us all. JR's challenging journey and resilience will bring a uniquely authentic perspective to the role of Brot Monroe."
Martinez was deployed to Iraq in February 2003. Just two months later, while serving as a driver of a Humvee, a tire on the vehicle hit a landmine. As a result of ensuing explosion, Martinez suffered severe burns to more than 40 percent of his body. After spending 34 months in the hospital and undergoing 32 different surgeries, he is now a national spokesperson for the Coalition to Salute America's Heroes, to promote and support programs helping other wounded service members.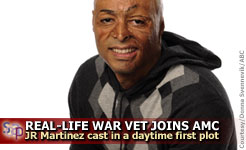 In All My Children's storyline, Brot Monroe served in the U.S. Army in Iraq and was injured in combat. While serving, he fell in love with Lt. Taylor Thompson. Due to the extent of his injuries, Brot made the decision to allow Taylor to believe he had died, not wanting to subject her to the reality of his injuries. The fictional character's injuries were determined by Martinez's real-life personal injuries. After a lengthy recuperation process, Brot returns to find his fiancée, who has been grieving, unaware that Brot is actually still alive.
Earlier this year, All My Children put out a casting call to find an actor to play the role of Brot, Taylor Thompson's fiancé, who was believed to have died during active duty in Iraq. Unlike other casting processes, this time around All My Children wanted to place a real-life veteran in the role. The ABC soap partnered with USA Cares, an organization founded to support post-9/11 veterans and families.
"[USA Cares'] first-hand experiences and research are an invaluable resource for us and insure that we tell this story honestly and accurately," Carruthers explained.
Martinez first airs on Friday, November 7, 2008. A day earlier, AMC will air a special episode that includes unscripted scenes with other Iraq war veterans. Each veteran will share their unique stories and journey.
Photo courtesy: Donna Svennevik/ABC