Though nothing is a done deal, fans of actor Thorsten Kaye (Zach Slater) may be holding their breath for the next few weeks. According to at least one published report, the three-time Daytime Emmy nominee could be on the verge of leaving All My Children.
The New York Post reports that contract talks between Kaye and ABC have hit an "impasse." Losing Kaye would be viewed as a huge loss to All My Children. Since joining the show nearly five years ago, Kaye has been constantly involved in frontburner storylines.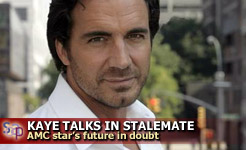 A reason for the stalemate was not given, but many online fans are wondering if the show's recent salary slashing may be playing a part in the negotiations. As previously reported by Soap Central, All My Children creator Agnes Nixon revealed late last year that stars across the board have been asked -- or ordered -- to take up to a 50-percent pay cut.
Kaye joined All My Children in 2004 upon the cancellation of Port Charles, where he had appeared as Ian Thornhart on the supernatural-leaning soap for nearly three-and-a-half years. Prior to that, beginning in 1995, Kaye enjoyed a two-year run as the wildly popular Patrick Thornhart on One Life to Live. It was no mere accident that the last name of Kaye's Port Charles and One Life to Live roles were the same. The two characters were brothers.
There is already some rumbling about Kaye possibly being courted by One Life to Live, though a show insider tells Soap Central that One Life to Live execs are honoring Kaye's existing relationship with All My Children and are not actively pursuing him -- yet.
Kaye's contract expires in April.
An ABC spokesperson notes that it is not network policy to comment on contract talks.
Former GH Emmy nom cast as Bianca's girlfriend.