Things in Pine Valley are about to get a little more interesting -- especially for the Chandler family. After more than four years away from the small Pennsylvania town, Liza Colby has decided to head home. When she does, long-time All My Children fans may have to do a double take. With the best-known Liza unavailable, the ABC soap has opted to recast the role.
Beginning next month, former Melrose Place star Jamie Luner takes over the role of Liza Colby. In joining AMC, Luner will be reunited with the show's head writer, Charles Pratt, Jr., who served as a writer on Melrose Place from 1992 to 1999. Luner isn't just known for her role as Lexi Sterling on the former FOX primetime soap. Luner also had a starring role on Growing Pains spinoff, Just the Ten of Us, and in The WB's short-lived series, Savannah. Among the actress' other primetime credits are recurring roles on Profiler and 10-8: Officers on Duty
The role of Liza Colby was originated in 1981 by Emmy-winning actress Marcy Walker. During that time, Walker played out one of the show's most talked about plots: Liza and her mother, Marian, were both sleeping with Tad Martin. Walker left All My Children in 1984 and the role of Liza was recast. Alice Haining lasted in the role just a short amount of time before Liza was written off the canvas.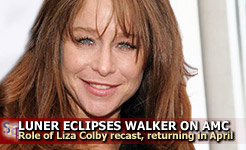 Walker returned to All My Children in 1995 and remained a major player for the next nine years. In 2004, ABC took Walker off contract with the hope that the actress would continue to appear on a recurring basis. Walker appeared for a short time, but Liza eventually fled Pine Valley to make a new life for her and her four-year-old daughter, Colby.
Two years later, a then-teenaged Colby ran away from her mother, saying that Liza had become a horrible parent
Walker, meanwhile, has turned her attention from acting to something different: sharing the joy of faith with children at a North Carolina-based ministry.
Liza, it seems, has also changed her focus. TVGuide reports that since disappearing, Liza has found a penchant for all things legal. Liza has gone back to college and become a lawyer.
Luner will have her work cut out for her initially when it comes to winning over viewers. In a poll conducted by Soap Central in 2006 when Smith discussed her exiting the acting world, nearly 40% of respondents indicated that they did not want All My Children to recast the role of Liza.
Luner makes her All My Children debut on April 17.