Despite assertions of rumor and gossipmongering, ABC has confirmed that All My Children will be moving production to Los Angeles next year. The move ends decades of speculation about the long-running ABC soap's future in New York City. The relocation will give All My Children bigger studio space, substantially cut its production costs, and allow the soap to broadcast in high-definition.
"All My Children is one of the most recognizable brands in television, and we are committed to continue telling and enhancing the stories of the residents of Pine Valley," said Brian Frons, president of the Daytime division of the Disney/ABC Television Group, in a statement.
The cast and crew of All My Children were only informed of the planned move today, though many had first heard of the then-rumored move last week when Daytime Confidential's Jamey Giddens cited sources close to the talks.
At the time, an ABC spokesperson told Soap Central that talk of All My Children leaving New York had "been in the zeitgeist for years."
All My Children's big move will take place in January, with its first shows being taped the week of January 4, 2010. That week also coincides with the soap's 40th anniversary. A month later, when those scenes hit the airwaves, All My Children will be broadcast in high-definition.
When it moves to Los Angeles, All My Children's studio space will be twice as large as its current New York digs. Having more studio space will allow All My Children to construct permanent sets, whereas the show currently must dismantle many of its sets daily due to the constraints of its studio space.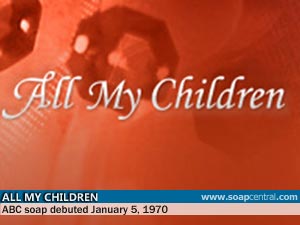 All My Children will not be the only ABC soap to undergo changes. One Life to Live will relocate from its current studio space and move across the street to AMC's former studio in Manhattan. While the studio space may have been too small for All My Children, AMC's old studio is about 30-percent larger than One Life to Live's current home. One Life to Live will also begin broadcasting in high-definition upon the move to its new home.
"The move to Los Angeles enables both All My Children and One Life to Live to dramatically improve the series production models and achieve significant efficiencies while enhancing each show," Frons added. "We had to examine every option on the table to combat the current economic realities, and rising costs of production, and we are doing it in a way that makes each of our shows stronger."
Frons did not elaborate on what the other changes would be made to create the "streamlined production models."
In his initial report, Giddens hinted that moving All My Children would buy both AMC and One Life to Live more time on the air.
"I am so grateful for the wonderful commitment from ABC to All My Children," commented Agnes Nixon, creator of both All My Children and One Life to Live. "While I will miss being able to run over to the show ... it feels a little like I am sending one of my children off to be married. I am glad the network is making moves that will enable the team to continue telling stories about Pine Valley. There are many more secrets to be revealed."
What remains unclear, however, is how many All My Children stars will be willing to relocate from the East Coast to Los Angeles. Many of the stars have long-established residencies in the New York area and they may not want to permanently move to the West. Commuting to and from Los Angeles could be an option.
Meanwhile, TVGuide Canada's Nelson Branco hints that ABC executives might not want all of its talent to make the westward move.
"ABC is also trying to figure out a way to throw Susan Lucci (Erica) on recurring," Branco writes in his latest Suds Report column. "The network doesn't know how they will pull this off, but they're trying to find a way to do it. Hello: L.A.!"



Official word means Guiding Light will go dark in September