Jackson Montgomery's abrupt decision to leave the country last week has some fans wondering if actor Walt Willey is leaving All My Children. While it is not network policy to comment on contract status, published reports state that Willey has been taken off contract and might not return. In short, Jackson's vacation may be much more permanent than originally anticipated.
Fans have no doubt noticed that Willey has lacked storyline since the end of his character's love triangle with Erica Kane and the now-missing-in-action Carmen Morales. Jackson's on-screen familial ties have also been severed with the death of Greenlee Smythe.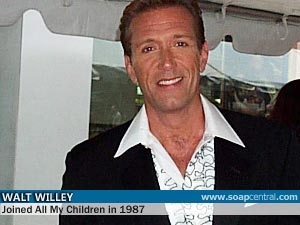 This is not the first time that Willey has faced the end of his run on the ABC soap. About nine years ago, Jackson was diagnosed with cardiac issues. The mystery ailment popped up just as Willey's contract was coming to an end. A show source back then told Soap Central that Jackson more than likely would have been killed off had ABC and Willey been unable to come to terms on a new contract.
Willey joined All My Children in 1987 after having made a series of appearances as an extra. AMC was not his first stop on the daytime dial. A year before arriving in Pine Valley, Willey appeared as Jim LaRusso on Another World and as Ryan's Hope's Joe Novak.

RELATED STORYsoapcentral.com's Dan J Kroll questions why AMC would cut Willey now in the Two Scoops commentary.

Photo Credit: Dan J Kroll/Soap Central