For the past three years, All My Children fans have been wondering what happened to Brooke English, played for nearly 30 years by two-time Emmy winner Julia Barr (Brooke English). AMC fans are about to find out: Barr will return to All My Children in January.
Unfortunately, Barr's return is scheduled only for one episode -- All My Children's 40th anniversary spectacular. As soap fans know, things can happen -- and there's always the potential that Barr could return for more AMC action in the weeks and months ahead.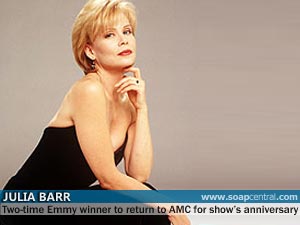 Barr is just one in a long line of stars that are returning for the All My Children milestone. As previously reported, Mark Consuelos (Mateo Santos) and Kelly Ripa (Hayley Vaughan) are returning the show that gave them their big break. SOAPnet is also reporting that Eva LaRue (Maria Santos), Laurence Lau (Greg Nelson), Taylor Miller (Nina Cortlandt), Leven Rambin (Lily Montgomery), and Eden Riegel (Bianca Montgomery) will also find their way back to Pine Valley for the celebration.
In 2006, Barr refused requests by network brass to drop to recurring status. As a result, the show stopped writing story for Brooke English and Brooke simply vanished from the canvas. It was a decision that outraged long-time viewers. The show scripted no farewell episode and after appearing as a mourner at a funeral, Brooke was never seen or heard from again.
"I had assumed that I would have a final scene regarding my character's departure -- certainly with Tad or Jamie, or even a last jab at Erica," Barr said in a statement at the time. "I think the fans would have liked the chance to say goodbye to Brooke and to have had some closure with the character many have known for 30 years. I know it is what I would have wanted. However, it was not the decision that was made for whatever reason."
Barr joined the cast of All My Children in 1976. She exited the show in 1980, but returned two years later. She remained with the show for the next 24 years.
All My Children will mark its 40th anniversary on January 5, 2010.
Photo Credit: ABC