Pine Valley isn't exactly the corner of Hollywood and Vine.
The words, uttered by a then-teenage Erica Kane certainly had a ring of truth to them. The small Pennsylvania town, nestled somewhere between Philadelphia and a mysterious ocean, seemed the perfect place for corporate executives, European royalty, and fashion models to find a little rest and relaxation. Someplace where the local airport can take them anywhere they want to go in about an hour.
At least that was the plan.
In the past 40 years, Pine Valley has seen more than its fair share of serial killers, walking dead, evil twins, and interrupted weddings. Maybe that's part of the town's charm.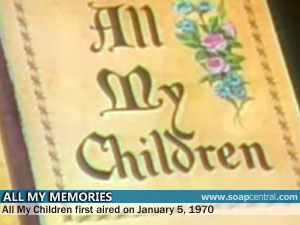 On January 5, 1970, All My Children debuted on ABC -- but the show almost never made it to the airwaves. While serving as head writer for Guiding Light in the 1960s, Agnes Nixon developed All My Children as a new series for soap opera pioneer, Procter & Gamble Productions. Executives with Procter & Gamble passed on Nixon's creation, reportedly because the show was too progressive for the times. Nixon tossed the All My Children script in a desk drawer and forgot about it. After successfully developing One Life to Live for ABC, Nixon was asked by ABC to create another soap opera for the network. It was then that Nixon's husband, Bob, encouraged her to dust off her old All My Children manuscript and present that as her "new" soap.
Designed as a show for younger viewers, All My Children was initially a ratings failure. In its first year on the air, it ranked near the bottom of the ratings heap: 17th out 19 soaps. By 1978, however, the show was the top-rated daytime drama series.
All My Children has repeatedly lived up to its "edgy" reputation. The soap has chronicled social issues and other topics deemed too controversial for other shows.
In 1973, Erica Kane had the first legal abortion on daytime television. Nearly 30 years later, Erica's youngest child, Bianca, revealed that she was a lesbian, marking the first time that a major character from a core family had come out on a soap. Bianca's coming out wasn't the first gay story that All My Children had visited. In the late 1990s, Kevin Sheffield underwent reversion therapy at the urging of his father to "cure" himself of his homosexuality.
In the late 1980s, All My Children turned its sights on the AIDS epidemic. At the time, many Americans were unaware of how HIV was transmitted. When Cindy Parker was diagnosed with AIDS, many Pine Valley residents turned their backs on her -- but not Stuart Chandler. The resulting storyline is often described as one of AMC's most beautiful love stories of all time.
In 1992, the show confronted racism. Terrence Frye was beaten by two young white men, an attack that left the African American teen in a coma. A Black female police cadet, Taylor Roxbury-Cannon, masqueraded as a white women to infiltrate a racist organization based at Pine Valley University. Several years later, AMC featured an interracial romance between Livia Frye and Tom Cudahy. Though no one in Pine Valley batted an eye at the romance, many viewers found the pairing objectionable.
In 1988, All My Children told one of its most heart-breaking tales. Brooke English's daughter, Laura, died at the hands of a drunk driver after running out into the street.
The show also has touched on teenage prostitution, drug and alcohol abuse, child pornography, domestic violence, elder abuse, autism, and organ transplant.
There have also been murders. Boy, have there been murders. But more on that in a minute...
CONTINUE READING TO PART TWO OF OUR SPECIAL COVERAGE OF AMC'S 40TH ANNIVERSARY

Photo: ABC
---
's Dan J Kroll weighs in with his thoughts on AMC's near-cancellation.
--->
---