Things are about to look a whole lot different in the Pine Valley tot lot. As a result of All My Children's recent move from New York to Los Angeles, the show has been forced to replace all of its child actors. That means that many of the roles AMC viewers are used to seeing on-screen every day will soon be played by different people.
Whereas adult performers can chose to relocate, the same is not the case for children. In most case, the parents of child stars have their own jobs, and that it makes it harder to uproot and move completely across the country. Not to mention that the children have their schools, friends, and routines.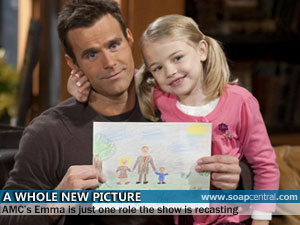 Though they had no lines to remember, the infants and toddlers played integral parts in many of All My Children's storylines over the past year. Out are triplets Alexander, Benjamin, and Caleb Eckstein, who played the role of Spike Lavery, David and Damian Paseler (Baby Stuart), Rory and Declan McTigue (Little Adam Chandler), and Aidan and Connor Sharpe (Trevor Dillon).
More notable in their departures are Alexa Gerasimovich (Kathy Martin), Jessica Slomovitz (Jenny Martin), and Lucy Merriam (Emma Lavery).
All the young actors and actresses taped their final scenes before All My Children wrapped production in New York back in December. They will continue to air until sometime in late January. All of the roles will be recast -- and the show has not ruled out "aging" some of the characters. So don't be surprised if some of the youngsters experience an unexpected growth spurt.
Photo Credit: Steve Fenn/ABC