All My Children fans are mourning the loss of one of the show's larger-than-life stars. James Mitchell, who for 30 years played the cantankerous Palmer "Pete Cooney" Cortlandt, has died. Mitchell was 89.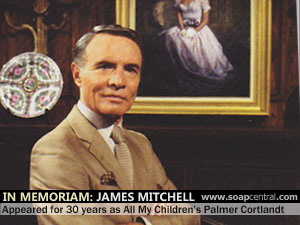 Though generations of daytime fans know him for his All My Children role, Mitchell didn't set out to be a soap star. Early in his career, Mitchell was an accomplished dancer. He appeared in numerous Broadway productions, including Mack and Mable, Carnival, Paint Your Wagon, Brigadoon, and Bloomer Girl.
Though he didn't start learning it until he was in his twenties, Mitchell was also a skilled ballet dancer. He toured with the American Ballet Theater and the Agnes DeMille Dance Theater.
In 1942, Mitchell landed his first role in a feature film. He appeared in Moonlight in Havana as a member of the Lester Horton Dancers. Seven year later, he scored his first credited solo role: Duke Harris in Colorado Territory. His other film credit include That's Dancing, a retrospective of great dance numbers in movie musicals; The Turning Point, in which he played the artistic director; The Bandwagon with Fred Astaire; Oklahoma; and Deep in My Heart with Cyd Charisse.
By the late 1960, Mitchell found more and more work on television. From 1969 to 1973, he played the role of Professor Hathaway on the daytime series, Where the Heart Is. In 1979, he landed the role of Palmer Cortlandt, a role described as "a tycoon with a smile on his face and a scheme up his sleeve."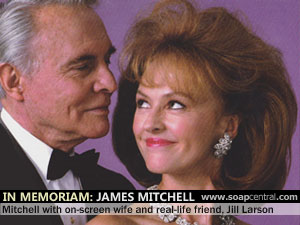 During his tenure with All My Children, Mitchell earned seven daytime Emmy nominations. In 2009, Mitchell quietly retired from the daily grind of the soap game. Fans were overjoyed when the actor appeared in All My Children's 40th anniversary episode, which aired on January 5, 2010. Sadly, it would be his final appearance.
On January 22, 2010, James Mitchell passed away at Cedars-Sinai Medical Center in Los Angeles from chronic obstructive pulmonary disease (COPD), complicated by pneumonia.
In an odd coincidence, in 2005, Mitchell's co-star, the legendary Ruth Warrick (ex-Phoebe Wallingford), also passed away a short time after making an appearance to celebrate All My Children's anniversary. Though fans undoubtedly will be thankful for a chance to have seen the inimitable actors one last time, it certainly won't lessen the loss.
Survivors include his longtime partner, Albert Wolsky.
---
---