Former All My Children star Carrie Genzel (ex-Skye Chandler) has found herself right smack in the middle of some pretty serious political drama. But rather than tricky international relations and social media controversy filling her docket, her political shenanigans involve a potentially troublesome dog named Max in her new Warner Bros. film Max 2: White House Hero.
A follow-up to the popular 2015 film Max, the sequel has Genzel in the role of First Lady Maureen Bennett -- a character who has her hands full with the unexpected arrival of a furry new family member at the White House.
"The Bennetts are new to the White House, they're all getting used to the new protocols and security, especially my son TJ, played by Zane Austin," the actress teases. "Maureen is aware that TJ is having a hard time adjusting to their new life and is sensitive to it, along with keeping up with the President's [Lochlyn Munro, Riverdale] negotiations with the visiting Russian President. She definitely doesn't take a back seat in the family; she's very involved and when she doesn't agree with how things are playing out, isn't afraid to speak out."
Genzel continues: "She, at first, is happy that TJ seems to have found a friend in Max but worries the dog is getting him into trouble and distracting Max from his duties, but ultimately acknowledges the bond the two have."
Of course, working with a canine costar came with its own set of challenges -- one being dousing her vegetarian self in meat perfume.
"I haven't worked with dogs as much in the past as I had on this film. We had a lot of action for Max to do, so we were all working very closely with all the dogs, which meant that we also quite often smelled like beef," she shares. "A trick of the trade: they use a beef-scented application to attract the dog to you or to encourage him to lick your face or hand! Trade secret."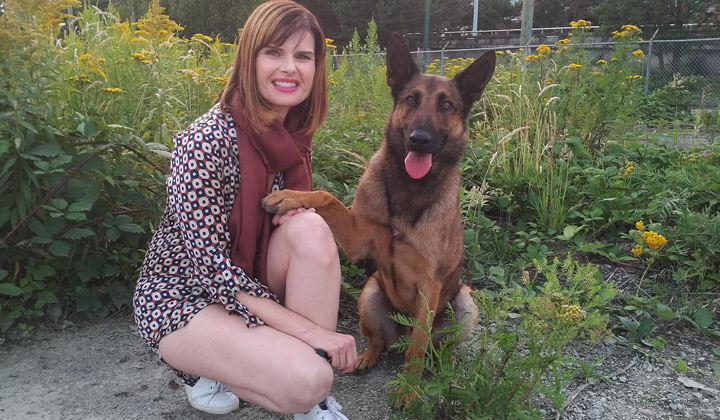 So maybe acting with the dog that plays Max wasn't a total walk in the park. But at least the same can't be said for working with Austin and Francesca Capaldi (Dog With a Blog), who plays the trouble-making daughter of the visiting president of Russia.
"It was a lot of fun working with the younger cast," Genzel says. "We all definitely bonded like a family and had a lot of good-natured ribbing and jokes throughout the filming."
Speaking of jokes, the Canadian-born actress makes a few quips about her piano-playing skills in the film.
"My character is supposed to have been a concert pianist, and I can't even play 'Chopsticks,'" she laments. "In the film, to honor the visiting Russian President, I put on a special recital in his honor, and I am supposed to play a Tchaikovsky piece, so they had to bring in a pianist to play it. I did have to fake play it, though, with the track playing over my banging on the keys. Funny thing is, with the track playing, you couldn't hear my bad playing, and everyone thought I was really playing! It was pretty genius, but we did need to have a professional come in for the hand insert shots to the right keys being played, so there were two First Ladies on this day. However, I did fake play so hard, I played my manicure right off, giving new meaning to the mantra, 'fake it until you make it.' I faked it all right. See pic!"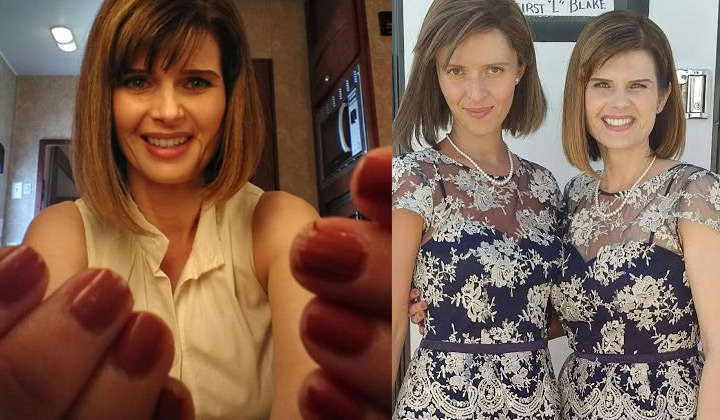 Max 2: White House Here is scheduled make its theatrical release on Friday, May 5; it's digital release on Tuesday, May 9; and its Blu-Ray and DVD release on Tuesday, May 23.
Check out the trailer for the film below, and let us know what you think about Genzel's latest project.
What do you think about the premise of Genzel's latest film, Max 2: White House Hero? Are you surprised to hear "beef scent" is sometimes used to wrangle dogs on set? We want to hear from you -- so drop your comments in the Comments section below, tweet about it on Twitter, share it on Facebook, or chat about it on our Message Boards.