TerBlanche staying... at least for a while
The growing confusion over Esta TerBlanche's (Gillian) future with All My Children appears to be answered.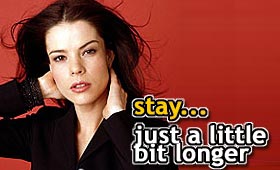 Soap Central has learned that the actress has signed a new, short-term contract with the show. According to a setside source, TerBlanche's new deal will expire in December of this year.
Fans had hoped that TerBlanche would sign a new, multi-year contract that would somehow bring about Gillian's resurrection. The new contact appears to mean the worst for fans -- Gillian might just be dead... and stay that way.
It is unclear at this time if TerBlanche only wanted a short-term contract or if AMC execs decided that TerBlanche's character would only be needed for a few more months.