Posted Monday, October 29, 2001
Cameron Mathison (Ryan Lavery) has again spoken out about the rumors that he's leaving All My Children. He's also talked about the ones that say he's going to stay with the show.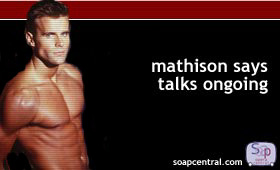 For those who have not been following the back and forth rumors making the rounds, a bit of a recap. A September headline in a soap opera magazine announced the news that Mathison had decided not to renew his contract, which is set to expire in December. Almost immediately, Mathison fired back on his official web site that the report was "totally and completely not true." Mathison claimed that he hadn't yet decided what to do about his new contract, but admitted that his exit was a possibility. "I could re-sign, I could not, or I could just take a little break for a while... I really have no idea."
Soap Central reported exclusively earlier this month that a former colleague could have unwittingly started the rumor that Mathison was out. Shortly after his dismissal, Eric Dearborn (ex-Gabriel Devane) posted a message on his official web site stating that several other performers - including Mathison - were also leaving the show. In a subsequent message, Dearborn explained that he hadn't meant that Mathison's departure was inevitable. Instead, according to Dearborn, he knew that Mathison's contract was up for renewal and that the current environment under a new head writer meant that it was possible that Mathison's contract might not be renewed.
Mathison is said to enjoy the story that the writers have developed for his character. However, that doesn't change that he misses his former co-star and on-screen love interest Esta TerBlanche (ex-Gillian Andrassy).
According to a source close to Mathison, the actor is "not demanding anything extraordinary." Mathison is said to have asked that any new contract with AMC include two things: the ability to take time off for non-AMC projects and a shorter than normal contract term. Soaps have recently bumped up the traditional three-year term to four years. Because of the latter purported request, rumors are circulating that Mathison might agree to stick around for a short time should his contract not be renewed. A few month extension would allow the writers to wrap up Ryan's storylines, if necessary.
Mathison has been quoted as saying that he "really want[s] to stay" on All My Children. However, contract talks are still ongoing. To date, there's been no resolution.