Soap Central has learned more information about Elizabeth Hendrickson's (ex-Mary Frances "Frankie" Stone) upcoming return to All My Children.
As first reported last month, Hendrickson will be making a return appearance to Pine Valley -- but this time around she will not be playing Bianca's former almost-lover. According to a setside source, Hendrickson will be playing a totally new character named "Maggie."
In earlier coverage, the question of whether or not Frankie was always slated to die had become a bone of contention with some AMC fans who felt that the show was afraid to focus on a lesbian romance. According to head writer Richard Culliton, who created the character of Frankie as his first character as the show's head writer, AMC had always intended for Frankie to die.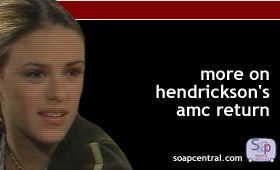 Fan reaction to Hendrickson was overwhelmingly positive in spite of the possibly controversial nature of the character's storyline. Additionally, show executives were also pleased with the actress' work. Both factors prompted the show to create a new role for Hendrickson.
This would not be the first time that an actor has found new life on the same program after his or her original character was killed off. On The Young and the Restless, the writers brought Rick Hearst (Matt Clark) back as a ghost after his character was killed. After his character's murder on On One Life to Live, Ty Treadway (Colin and Troy McIver) returned as his late character's twin brother.
This time around, Hendrickson will be a contract player. Her previous work as Frankie was on a recurring basis.
Hendrickson's first airdate as Maggie will be February 1st. And yes, you guessed it; It's a Friday.