All My Children is planning to bring Del Hunkle back to Pine Valley. That should come as no surprise to Soap Opera Central readers as SOC has been reporting this news for several months. However, there's a new wrinkle in the story.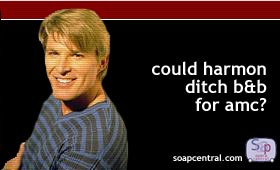 Del entered Pine Valley in 1994 and was quickly woven into the fabric of All My Children's storylines. It was revealed that Del and Dixie were half-siblings, sharing a common father by the name of Seabone Hunkle. Del was suffering from kidney troubles and Dixie offered one of her kidneys to help save the life of her brother. In addition to his ties to Dixie, Del was also revealed to have shared a past with Maria Santos, with whom he had fathered a child. Maria miscarried and hid the secret of her unborn child for many years. These two storyline twists left the women tied to him with serious health complications - Dixie was rendered unable to have children because of the stress it would put on her one remaining kidney and Maria was also left unable to have children because of undiagnosed complications following her miscarriage.
Del was last seen in 1995 when he exited Pine Valley with then-lover Kendall Hart. At the time Del was played by Winsor Harmon and Kendall was played by Emmy winner Sarah Michelle Gellar. Kendall returned to Pine Valley in January, played by newcomer Alicia Minshew. AMC had reportedly also wanted to bring back Del, but was unable to find someone suited for the part. Harmon, the previous Del, was locked into a new long-term contract with CBS's The Bold and the Beautiful where he has played Thorne Forrester since 1996.
Officially, Harmon is locked into B&B for the next few years. There are backstage rumblings, though, that Harmon is unhappy with his current backburner status on B&B. If given the opportunity, one insider hints that Harmon would have his B&B contact nullified so that he could return to AMC.
Spokespersons for both The Bold and the Beautiful and All My Children declined comment on the reports that Harmon would like to return to AMC.